Oklahoma Cemeteries Website
Click here to break out of frames
This information is available for free. If you paid money for a
subscription to get to this site, demand a refund.
---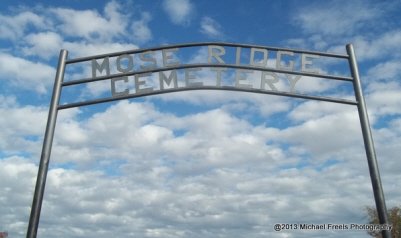 © Mike Freels
© Mike Freels
Mose Ridge Cemetery
Delaware County, Oklahoma
Partial Survey
Location:
---
If you have family buried in Mose Ridge Cemetery and would like to add your information to this website, contact

Sabrina

for more information. You can also check out our

How to Submit

page.
NOTE: Every effort has been made to transcribe this information accurately. These records MAY CONTAIN ERRORS. Any corrections and/or additions greatly appreciated. As with any genealogy information, this is a source and should be considered as such. It is up to the researcher to verify the accuracy.
---
I do not live in Delaware County and I do not have access to any records other than those presented here. Therefore, I am sorry that I am unable to answer any questions about specific people.
LAST NAME
FIRST MI
DOB
DOD
COMMENTS
BATES
Benny Allen
16-Sep-1934
06-Dec-2006
Photo
BATES
Mary Mildred
08-Jun-1938
11-Dec-2011
Photo
CARTER
Velma Buzzard
10-Apr-1952
16-Jun-2001
Photo
CAYWOOD
Norma Jean
16-Feb-1932
07-Oct-2010
Obit
CUNNINGHAM
Mary Aniwegi Van
1858
1940
Photo
DAVIS
Billy "Justin"
12-Nov-1978
05-Aug-1996
Photo
DAVIS
Robert "Todd"
23-Mar-1986
14-Jun-2006
Photo
EDMONDSTON
Marion
14-Sep-1892
14-Feb-1949
Photo
HAGGARD
Della A.
02-Jul-1888
29-Dec-1920
Photo
HAGGARD
Ella
16-Sep-1896
13-Nov-1970
Photo
HAGGARD
Millie
29-Jul-1846
27-Sep-1915
Photo
HAGGARD
T. T.
19-Mar-1884
26-Sep-1962
Photo
HAGGARD
William
04-Jul-1887
25-Jun-1935
Photo
HAMPTON
Juanita R. "Nita"
24-Feb-1936
27-Feb-2011
Obit
HERRING
Jami Nicole
28-Mar-1991
07-Nov-2010
Photo
HOLLAND
Toni L.
1961
2011
Photo
HULSEY
Vernard Wayne
24-Aug-1928
28-Jun-2010
Photo
JACKSON
Arthur
01-Jun-1871
01-Dec-1919
Photo
KNEELAND
Cheryl D.
29-Jul-1963
13-Sep-2013
Photo
MANN
Harold, Jr.
26-Jul-1967
02-Mar-2013
Photo
MORROW
J. M.
07-Nov-1860
01-Dec-1941
Photo
MUSKRAT
Terry Lewis
16-Jul-1951
30-Oct-2012
Photo
OSTROWSKI
Patricia Louise
09-Oct-1948
15-Nov-2008
Photo
PHILLIPS
Robert L.
1931
2013
Photo
ROBERTS
Gracie Bernice
Burton White
08-Jan-1916
04-Feb-2008
Photo
ROBERTSON
Cora
14-Oct-1882
08-Feb-1934
Photo
ROBERTSON
James T.
14-Oct-1880
17-Apr-1960
Photo
ROBERTSON
M. Juanita
25-Sep-1927
Photo
ROBERTSON
R. H. Cot
26-Sep-1923
10-Jul-2006
Photo
SCHMIDT
Karl
13-Sep-1926
29-Mar-1983
Photo
SCOTT
Zetta Dee
02-Feb-1930
07-Sep-2009
Obit
|Home|
---
This page was updated: Friday, 10-Sep-2021 22:50:27 EDT
This site may be freely linked, but not duplicated in any way without consent.
© 2023 Oklahoma Cemeteries
The information on ths site is provided free for the purpose of researching your genealogy. This material may be freely used by non-commercial entities, for your own research, as long as this message remains on all copied material. The information contained in this site may not be copied to any other site without written "snail-mail" permission.
All information found on these pages is under copyright of Oklahoma Cemeteries. This is to protect any and all information donated. The original submitter or source of the information will retain their copyright. This material will always be available online at no cost, it will always remain free to the researcher.
All rights reserved! Commercial use of material within this site is prohibited

GOD Bless America!
"One can tell the morals of a culture by the way they treat their dead." ~ Benjamin Franklin