Oklahoma Cemeteries Website
Click here to break out of frames
This information is available for free. If you paid money for a
subscription to get to this site, demand a refund.
---
Darwin Cemetery
Antlers, Pushmataha County, Oklahoma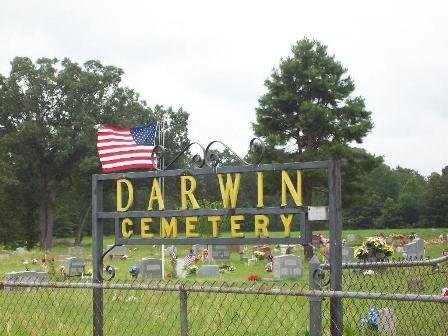 Photo Copyrighted by Teresa Young

Cemetery sign donated by J. T. Reynolds Family


Located about 7 miles west of Antlers near the Atoka County Line

If you have family buried in the Catholic Cemetery or have driving directions to the cemetery that I can add to the website or can take a gate photo or have obits (with newspapers permission or an obit that you can write) or tombstone photos or individual portraits or can write a short bio or have a history of the cemetery and would like to add your information to this website, contact the area coordinator for more information. You can also check out our How to Submit page.


NOTICE. If you submit information to this website and change your e-mail address please notify the area coordinator with the county/cemetery and new e-mail address so we can keep our pages as up to date as possible.
SURNAME
FIRST MI
BORN
DIED
COMMENTS
Abston
Audra B.
1908
1991
Akin

Sidney
6/29/1831
6/24/1918
Pvt Co A 31stAR INF Civil War (Per Stan Dowling)
Ansley
Cathy Christine (Crisel) (Whitehurst)(Emmett)
8/16/1953
11/28/2008
Wed Andrew Whitehurst 4/28/1983
W of ??? Emmett
W of Robert Ansley
Obit
Arnold
Elderene Ludric (Layne)
12/2/1919
Wed James L 12/3/1940
Arnold
Harvey Hermon
9/21/1911
8/26/2002
Wed Lola 3/15/1931
Arnold
James Arthur
6/11/1887
3/29/1964
Wed Mattie 6/19/1910
Arnold

James Leslie
6/18/1918
10/5/1964
Wed Elderene 12/3/1940
OK PFC US Army
WW II
Arnold
L Everett
2/9/1893
6/21/1974
Arnold
Lillie Mae (Scott)
9/20/1918
5/2/1985
W of Robert Arvil
Arnold
Lola Ellen (Flowers)
1913
1/28/1985
Wed Harvey 3/15/1931
Arnold
Loyd A
5/19/1917
4/14/1919
Arnold
Mattie Canzady (Smith)
10/20/1892
9/18/1967
Wed James A 6/19/1910
Arnold
Maureen Kay
3/1/1952
12/18/1956
D of Harvey & Lola
Arnold

Oscar J
4/17/1922
8/24/1973
OK S1 US Navy
WW II
Arnold
Pansy Dee
11/7/1968
11/7/1968
D of Walter & Pansy
Arnold
Pansy Dorcella (Smith)
5/20/1931
1/2/2014
Wed Walter 9/7/1948
Arnold
Robert A
1/10/1890
10/26/1949
Arnold
Robert Arvil
9/20/1916
12/19/1999
H of Lillie
Arnold
Robert W
10/24/1938
2/20/1995
Wed Wilma 8/31/1963
Arnold
Stacey Lee
9/28/1960
6/7/2011
Arnold

Walter Dee
Jul 25, 1920
Feb 15, 2007
Wed Pansy Dorcella 9/7/1948
TEC5 US Army
WW II Obit
Arnold
Wilma A
10/29/1944
Wed Robert W 8/31/1963
Ashcraft
Shyanne Denise
8/21/1995
11/1/2002
Obit
Ashcraft
William Nathan "Bill"
1/23/1972
12/17/2005
Obit
Benham
A T
10/24/1892
4/3/1934
Benham
Doyle
3/11/1914
4/14/2003
H of Zada
Benham
Edgar
11/15/1901
6/18/1924
Benham
Edgar
11/19/1861
10/28/1948
H of Willie
Benham
Elley
11/23/1912
12/27/1934
Benham
Elva June
11/23/1934
Dec 1934
Benham
Herbert Chester
10/2/1882
12/4/1949
Benham
Richard Thomas
4/4/1923
2/29/1924
Benham
Roy
2/27/1920
10/29/1940
Benham
Willie
8/14/1872
7/15/1943
W of Edgar
Benham
Zada Lee (Dillingham)
2/27/1915
1/12/2012
W of Doyle Obit
Brents
Jerry Don
1/24/1941
10/15/2017
Obit
Brents
Patricia Ann "Pat"(Lingo)
10/15/1943
8/10/2006
W of Terry
Brents
Robert Milton
1/11/1890
5/15/1970
Wed Suda 3/7/1914
Brents
Roland
8/25/1915
9/9/1995
Wed Thelma 6/10/1938
Brents
Suda Catherine (Hamby)
3/21/1896
3/16/1990
Wed Robert 3/7/1914
Brents
Terry Joe
2/5/1944
9/3/2008
H of Patricia
Brents
Thelma Juanita (Hendrix)
1/27/1921
6/11/2009
Wed Roland 6/10/1938
Brewster
Julia (Henson)
1/29/1908
3/31/1938
Crowley
Joan Ruth (Ray)
7/18/1917
9/25/2005
Dillingham
Clarence E
8/6/1909
3/3/1959
H of Lois
Dillingham
Lois Opal (Satterfield) (Pool)
6/21/1914
4/18/2000
W of Clarence
Franks
Fannie (Benham)
1/31/1904
12/29/1924
Green
Annie C (Henson)
Henson
Albert "Son"
3/30/1914
5/1/1976
Henson
Allie Almeta (Napier)
12/12/1886
4/19/1960
W of James A
Henson
Herman L "Bodad"
6/27/1944
11/9/2000
Henson
James Albert
12/6/1873
8/7/1960
H of Allie
Henson
James Myron
12/20/1961
10/7/1980
Henson
John Dewayne
11/3/1964
10/7/1980
Henson
Leonne
Henson
P J
1844
12/22/1917
Henson
Robert Michael
4/27/1963
6/8/2005
Obit
Henson
Tony Ray
7/12/1938
11/27/1950
Henson
Will
Henson
William Franklin
3/17/1881
8/7/1961
Jardan
Pauline
2/19/1935
3/15/1935
Markham
Sandra Dee (Powell)
4/8/1964
3/8/2017
Obit
Maxey
Dottie (Henson)
1922
1/18/1941
McMahan
Barbara L
3/7/1950
3/7/1950
McMahan
Martha Lea (Maxey)
3/5/1930
4/19/2018
Obit
McMahan
Wanda L
9/20/1934
1/20/2018
Ray
Frances Ann
6/28/1939
6/6/2005
Wed J W 2/10/1967
Ray
Rev. J W
5/28/1937
2/10/2017
Wed Frances 2/10/1967 Obit
Satterfield
Angel
11/5/1957
11/5/1957
Satterfield

Audalee
3/4/1924
11/19/1944
Pvt US Army WW II
KIA Germany
Satterfield

C B
6/22/1922
5/6/1997
PFC US Army WW II
Satterfield

George Austin "Buck"
9/1/1916
3/22/2009
H of Leta Obit
PFC US Army WW II
Satterfield
George Henry
4/9/1888
2/10/1957
H of Ponola
Satterfield
Leta M (Hamm)
8/25/1925
6/4/1990
W of George A
Satterfield
Paula
12/3/1954
3/7/1955
Satterfield
Ponola (Harvey)
2/11/1893
4/13/1970
W of George H
Steely
Anna Mae Elizabeth (Standridge)
2/20/1947
4/3/2017
W of L J
Obit
Steely
L J
6/12/1926
6/13/1985
H of Anna
Talley
Leonard Jefferson
Feb 15, 1898
Nov 17, 1980

H of Lola
Photo & Obit
Talley
Lola E.
Oct 5, 1898
Jan 20,1988

W of Leonard
Photo
Whitehurst
Andrew Jackson "Jack"
3/13/1943
12/31/2000
Wed Cathy Crisel 4/28/1983
|Pushmataha County Page| |Home|
This page was updated: Sunday, 06-May-2018 10:50:32 CDT
This site may be freely linked, but not duplicated in any way without consent.
All rights reserved! Commercial use of material within this site is prohibited!
© 2000-2018 Oklahoma Cemeteries

The information on this site is provided free for the purpose of researching your genealogy. This material may be freely used by non-commercial entities, for your own research, as long as this message remains on all copied material. The information contained in this site may not be copied to any other site without written "snail-mail" permission. If you wish to have a copy of a donor's material, you must have their permission. All information found on these pages is under copyright of Oklahoma Cemeteries. This is to protect any and all information donated. The original submitter or source of the information will retain their copyright. Unless otherwise stated, any donated material is given to Oklahoma Cemeteries to make it available online. This material will always be available at no cost, it will always remain free to the researcher.