Oklahoma Cemeteries Website
Click here to break out of frames
This information is available for free. If you paid money for a
subscription to get to this site, demand a refund.
---
Jerusalem Cemetery
Washington, McClain County, Oklahoma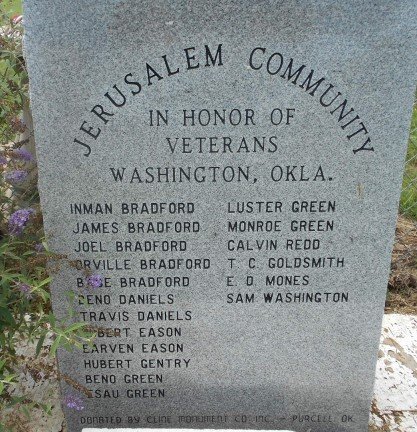 Photos © Audrey (McConnell) Calger
If you have family buried in this Cemetery or can take a gate photo that I can place on the website or can give driving directions to the cemetery or have obits (with newspapers permission or an obit that you can write) or tombstone photos or individual portraits or can write a short bio or have a history of the cemetery and would like to add your information to this website, contact the

area coordinator

for more information. You can also check out our

How to Submit

page.

NOTICE. If you submit information to this website and change your e-mail address please notify the area coordinator with the county/cemetery and new e-mail address so we can keep our pages as up to date as possible.

Note: Every effort has been made to transcribe this information accurately. These records MAY CONTAIN ERRORS. Any corrections and/or additions greatly appreciated. As with any genealogy information, this is a source and should be considered as such. It is up to the researcher to verify the accuracy.
SURNAME

FIRST MI
BORN
DIED
COMMENTS
Allen
Virgia
Barnett
Ruth
Oct 1918
Barnett
Serena
Aug 26, 1891
1918
Photo
Bawcum
Annie Mae
Feb 6, 1922
1987
Bradford
Caroline
Jun 27, 1856
May 20, 1940
Photo
Bradford
Clifford
Jun 23, 1921
Jun 23, 1921
Bradford
Daniel
Jan 1, 1952
Bradford

Inman A.
1929
2010
US Army
Photo
Bradford

James A.
Jan 15, 1951
Feb 20, 1999
US Army
Bradford
Joe
Jan 20, 1882
Mar 9,1955
Bradford
Madelyn Lee
Aug 13, 1917
Feb 8, 2007
Photo
Bradford
Odessa M
Mar 3, 1918
Jul 13, 2001
Bradford
W. S.
Dec 1, 1855
Nov 1, 1939
Brown
Eddie
Buckner
Erma Jean
Jul 16, 1933
Oct 16, 1933
Cameron
Cecilia Sue (Fixico)
Jun 8, 1945
Sep 21, 2013
Wed Larry 8/9/1965

Photo & Obit
Cameron
Larry Gene
1/18/1947
Wed Cecilia 8/9/1965
Photo
Daniels
Adline
Jun 22, 1873
Oct 5, 1939
W of Benjamin
Daniels
Benjamin F.
Jun 22, 1873
Nov 5, 1940
H of Adline
Daniels
Gertrude
Feb 13, 1916
Daniels
Jefferson
Feb 19, 1919
Daniels
Osell
Daniels
Ruth
Mar 16, 1915
Daughty
Allie Doretah (Goff)
Apr 5, 1939
Apr 27, 1966
Easton
Annie
Photo
Easton
James Zeancus
Jan 21, 1914
Apr 19, 1944
Easton
Jewldean
Jun 22, 1926
Jul 6, 1926
Easton
John
Easton
Larria
Easton
Mandaline
Jul 27, 1930
Dec 25, 1972
Edwards
Nelse Etta
Finn
James
Photo
Finn
Polly
Fisher
Nick
Mar 16, 1927
Fleeks
Sarah
Apr 26, 1923
Oct 9, 2005
Photo
Gentry
Bob King
Nov 16, 1880
Feb 18, 1933
H of Marzina
Gentry
Marzina
Jan 1, 1878
Nov 3, 1936
W of Bob
Gentry
Ora
Gentry
Robert
Feb 14, 1914
Jan 1, 1926
Goff
Alta Mae (Eason)
2/12/1918
11/3/2016
Obit
Goff
Dora
1976
Goff
Henry
1972
Goff
Hartena
1869
Oct 15, 1948
W of Sam Photo
Goff
J. Rebecca
Feb 14, 1878
Mar 21, 1962
W of Porter Photo
Goff
Leonard Samuel, Sr.
Jun 23, 1904
Sep 30, 1993
Photo
Goff
Porter R.
Oct 18, 1949
H of Rebecca Photo
Goff
Sam
Feb 11, 1869
Nov 29, 1951
H of Hartena Photo
Goff
Solomon, Jr.
Goldsmith
Jessie
Gotwod
Neute
Hamilton
Nancy
1911
Photo
Harris
Baby
Harris
Geo
Nov 14, 1910
Photo
Holloway
Bulah
1917
Holloway
Charlie
1917
Photo
Holloway
Floyd
1917
Holloway
Jane
1917
Holloway
Ma-Die
1917
Holloway
Mattie
1917
Holloway
Nettie
1917
Holloway
Sam
1917
Photo
Hudson
Almeter E (Easton)
Apr 18, 1924
Dec 17, 1992
Photo
Jones
Baby Nancy
Photo
Miles
Baby Hattie
Photo
Renolds
George
Photo
Renolds
Julie
Photo
Smith
Bessie
Photo
Smith
James Henry
Photo
Taylor
Frankie
Dec 17, 1951
Photo
Toombs
Willie
1924
Photo
Walker
E. D.
1886
Sep 21, 1913
Photo
Walker
Garnetta
May 21,1902
Oct 13, 1910
Photo
Walker
Jessie
Photo
Walker
Lizzie
Nov 3, 1874
Oct 12, 1967
Photo
Walker
Nelson "Pet"
Photo
Walker
William, Jr.
1943
Photo
Walker
William, Sr.
Photo
Wright
Amanda
Photo
|McClain County Cemetery Page| |Home|
This page was updated: Thursday, 12-Jan-2017 14:18:17 CST
This site may be freely linked, but not duplicated in any way without consent.
All rights reserved! Commercial use of material within this site is prohibited!
© 2000-2019 Oklahoma Cemeteries

The information on this site is provided free for the purpose of researching your genealogy. This material may be freely used by non-commercial entities, for your own research, as long as this message remains on all copied material. The information contained in this site may not be copied to any other site without written "snail-mail" permission. If you wish to have a copy of a donor's material, you must have their permission. All information found on these pages is under copyright of Oklahoma Cemeteries. This is to protect any and all information donated. The original submitter or source of the information will retain their copyright. Unless otherwise stated, any donated material is given to Oklahoma Cemeteries to make it available online. This material will always be available at no cost, it will always remain free to the researcher.