Oklahoma Cemeteries Website
Click here to break out of frames
This information is available for free. If you paid money for a
subscription to get to this site, demand a refund.
---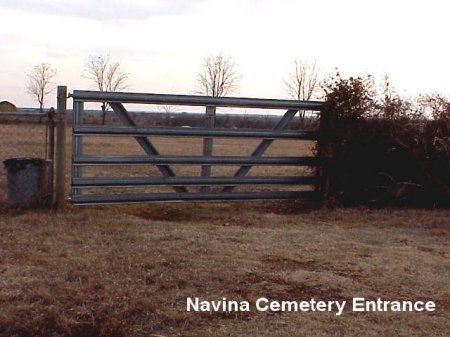 © John Lehr
Navina Cemetery
aka Fairview Cemetery
Survey © Mahlon Erickson
Survey © Robert Farrar
Robert Farrar surveyed this cemetery on 11-23-1999. Mahlon Erickson's survey of 04-17-1990 has been added for more information. There are other burials here that are unmarked.
There are several stones in this cemetery that are now unreadable. See if you can help us to identify them.


If you have family buried here and would like to have their information or additional information (Obituaries, Photos, Short Bio, Cemetery Photos)placed on our site please contact the Area Coordinator for details or visit our How To Submit page,both can be found on top of this page.

We are dedicated and strive for our records to be complete and accurate. As with all Genealogy work there comes a possibility for spelling or data errors with the information that we have received. Please let us know if you have found any such error.

---
LAST NAME

FIRST MI

BIRTH DATE

DEATH DATE

OTHER

BERG
Olive
1899
1906
See photo
BOND
Forest Merlyn
09-01-1918
02-18-1920
See photo
CHANDLER
John Robert
06-21-1876
08-01-1960
See photo
CHANDLER
Nancy Ann (Tidwell)
04-09-1873
11-03-1931
See photo
COOPER
Careline Leonard
10-07-1908
76 Yrs
See photo
COOPER
Gladys
dau. of Montville & Teely Cooper
unmarked grave
Information provided by:
Nancy Parker
COOPER
Lucinda J.
1842
1915
COOPER

Sterling
1838
1915
Co K 52nd Ind. Inf
G A R
See photo
COOPER
Teely
1861
1926
See photo
COOPER
Theodore Earl
01-09-1924
06-06-1924
See photo
CORNFORTH
Charles R.
10-25-1885
07-05-1976
See photo
CORNFORTH
Elizabeth H.
09-10-1892
08-05-1894
dau. of O. S. & M. J.
See photo
CORNFORTH
Elsie
02-14-1887
01-21-1922
See photo
CORNFORTH
Mary Elsie
01-21-1922
03-09-1922
See photo
CORNFORTH
Mary J.
1858
1941
wife of Oliver S. Cornforth
See photo
CORNFORTH
Mary Sue
01-21-1922
03-09-1922
dau. of Charles & Elsie
CORNFORTH
Oliver S.
1858
1932
See photo
CORNFORTH
Robert A.
09-10-1921
12-25-1921
See photo
CURRY
Joshua James
04-23-1973
07-07-1997
See photo
DANIELS
Pernella
06-15-1830
01-14-1896
DILLEY
Edna Mae
10-29-1904
11-18-1904
GANT
Reuben
07-10-1839
02-15-1926
GEDDES
Edith
03-25-1887
06-27-1888
dau. of R. C. & E. J.
See photo
GEDDES
Ellen
12-16-1899
08-13-1926
GEDDES
Katie
09-20-1880
12-14-1894
GEDDES
Libbie
04-09-1887
12-15-1910
GEDDES
Richard C.
06-01-1840
02-11-1901
GEDDES
Son
06-01-1893
07-26-1912
son of R. C. & E. J.
GLOVER
Frances "Fannie" Amelia (King)
08-06-1855
09-26-1928
wife of William A. Glover
See photo
GLOVER
Rex Archibald
son of William A. & Fannie
aged 2 Yrs 10 mths 18 da
See photo
GLOVER
Rufus M.
08-21-1898
05-30-1901
See photo
GLOVER
William Mahlon
03-12-1850
03-01-1910
See photo
GRAMS
Nellie Cornforth
10-17-1888
03-02-1979
See photo
GRAY
Bernard
10-21-1918
02-10-1999
See photo
GREENLEAF
Mary Ann (Magbee)
1852
1929
wife of Samuel Greenleaf
Information provided by John Lehr
See photo
GREENLEAF
Samuel
09-02-1847
1919
Information provided by John Lehr
See photo
HUGHES
Rosco F.
09-04-1894
10-17-1906
JONES
Effie A.
1887
1944
JONES
Elizabeth (Durham)
05-10-1843
Laural Co, KY
11-15-1933
Guthrie, OK
unmarked
maybe next to G. W. Jones
Info provided by Jack Durham
JONES
George W.
1846
1926
See photo
JONES
Robert J.
1869
1926
See photo
KIRBY
Barbara Ellen (Cornforth)
01-13-1933
Navina, OK
02-28-2016
Obit
LAIPPLE
Erna Magdeline (Beurr)
1846
1919
See photo
LAIPPLE
George Frederick
1845
1922
See photo
LENIGER
Icie Sears (Watson)
07-14-1861
06-22-1945
See photo
See obit
LENIGER
John L.
12-22-1849
06-06-1930
See photo
See obit
MARSHALL
G. A.
1845
1933
See photo
MATTHEWS
Estella Jewel
1930
1999
See funeral home marker
MILLER
John Wisley
1825
1903
See photo
MOSIER
Michael
09-11-1818
04-17-1897
See photo
MYERS
Clara Elizabeth
07-07-1884
03-19-1966
wife of W. L. Myers
See photo
MYERS
W. L.
12-14-1889
03-07-1963
See photo
NELSON
Admeral
12-01-1889
12-10-1889
See photo
NELSON
John James
1861
1927
NELSON
Joseph Riter
03-14-1836
02-07-1904
unmarked grave
Information provided by Nancy Parker
NELSON
Lydia Ann (Chadwick)
02-05-1840
1900
unmarked grave
wife of Joseph Riter Nelson
Information provided by Nancy Parker
NELSON
Nancy Elizabeth (Tibbetts)
1865
1943
NELSON
William Dennis
12-20-1894
05-18-1979
See photo
PIERSALL
Cora
02-13-1863
04-13-1898
Husband George is buried in Summit View
See photo
RAISCH
Esther B.
12-22-1888
10-25-1892
See photo
REBMAN
Katrina
1875
1931
See photo
REBMAN
Son
now unmarked
son of Katrina Rebman
RHODES
Ida M.
03-31-1876
10-14-1882
dau. of J. J. & M. M.
See photo
RHOADES
James J.
1837
1910
G A R
See photo
RHOADES
Mary M.
1847
1931
Wife of James J.
See photo
ROBINSON
Laura L.
05-30-1824
01-29-1892
ROBINSON
Thomas K.
05-18-1824
09-28-1901
See photo
ROE
Daisy M.
03-13-1846
05-03-1895
ROE
Harry
08-20-1830
12-31-1893
See photo
VINCENT
Alta
06-10-1906
08-20-1906
dau. of J. A. & M.
VINCENT
O. E.
05-28-1868
03-17-1906
VINCENT
Mary L.
05-09-1838
05-21-1910
See photo
VINCENT
Robert A.
01-08-1840
05-18-1910
See photo
WANZER
Horace S.
10-29-1848
10-20-1894
See photo
WANZER
James H.
01-14-1847
04-07-1917
See photo
WANZER
Sarah
01-20-1843
10-28-1928
wife of James H. Wanzer
See photo
WEST
Bertie
1875
1918
See photo
WEST
Oliver J.
1845
1891
See photo
WEST
Sabilla
1852
1929
See photo
---
This page was updated: Thursday, 08-Mar-2018 11:21:12 CST
This site may be freely linked, but not duplicated in any way without consent.
All rights reserved! Commercial use of material within this site is prohibited!

The information on this site is provided free for the purpose of researching your genealogy. This material may be freely used by non-commercial entities, for your own research, as long as this message remains on all copied material. The information contained in this site may not be copied to any other site without written "snail-mail" permission. If you wish to have a copy of a donor's material, you must have their permission. All information found on these pages is under copyright of Oklahoma Cemeteries. This is to protect any and all information donated. The original submitter or source of the information will retain their copyright. Unless otherwise stated, any donated material is given to Oklahoma Cemeteries to make it available online. This material will always be available at no cost, it will always remain free to the researcher.
All rights reserved! Commercial use of material within this site is prohibited!
© 2000-2018 Oklahoma Cemeteries