Oklahoma Cemeteries Website
Click here to break out of frames
This information is available for free. If you paid money for a
subscription to get to this site, demand a refund.
---
New Hope Garden of Memories Cemetery
Spiro, Leflore County, Oklahoma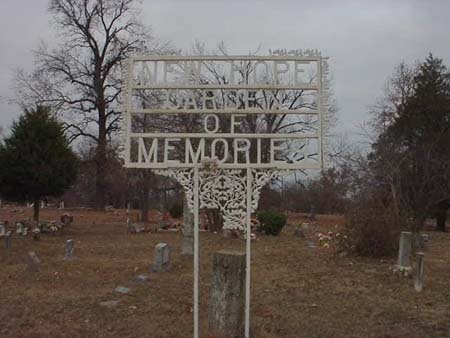 © Sue Hearon
© Sue Hearon
© Sue Hearon
Submitted by: Sue Hearon & Area Coordinators
If you have family buried in this Cemetery or can give driving directions to the cemetery or have obits (with newspapers permission or an obit that you can write) or tombstone photos or individual portraits or can write a short bio or have a history of the cemetery and would like to add your information to this website, contact the
area coordinator
for more information. You can also check out our
How to Submit
page.

NOTICE. If you submit information to this website and change your e-mail address please notify the area coordinator with the county/cemetery and new e-mail address so we can keep our pages as up to date as possible.

Note: Every effort has been made to transcribe this information accurately. These records MAY CONTAIN ERRORS. Any corrections and/or additions greatly appreciated. As with any genealogy information, this is a source and should be considered as such. It is up to the researcher to verify the accuracy.

SURNAME

FIRST MI

BIRTH

DEATH

OTHER

FANNIN
Florence L.
Jul 20, 1879
Mar 18, 1969
photo
FANNIN
Henry T.
Sep 17, 1879
Apr 23, 1911
photo
FLAHERTY
Ben W. "Silver Eagle"
07-13-1999
obit
FLAHERTY
Ethel L.
07-11-1921
06-22-2002
obit
Fout
Debbie Jean (Johnson)
Jun 27, 1959
Sep 8, 2009
Obit
Fout
Gregory "Booger"
Sep 27, 1975
Nov 10,2007
FRANKLIN
J. E.
04-22-1922
05-20-2002
obit
GARNER
Paula Darleen
11-02-1966
12-01-2001
obit
GILLION
Jerry
05-26-2002
obit
GILLION
Pat
05-26-2002
obit
GIST
Andrew W.
1897
1966
photo
GIST
Pearl M.
1901
1990
photo
GLEASON
Beulah
08-20-1912
02-03-2002
obit
GOINES
Abe
01-25-1868
01-24-1959
photo
GOINES
Delia
06-19-1871
05-12-1955
photo
GOINES
Edna Mary
12-02-1927
07-21-1995
W of Leon D
Wed 3/26/1923
photo
GOINES
Leon D.
09-02-1927
H of Edna
Wed 03-26-1923
photo
Guinn

Allan
1/31/1948
1/26/1967
OK PFC Co F, 5thMar, 1stMarDiv
Vietnam Info
Guinn
Allan Louis
9/12/1977
9/12/1977
Guinn
Edgar George
8/15/1901
12/2/1975
H of Vaneda
Guinn
Jeannie (Broughton)
4/16/1941
9/8/1984
Guinn
Susan Ellen "Susie" (Janes)
3/9/1906
1/13/1999
Guinn
Vaneda Ann (Brigance)
4/10/1910
5/9/2009
W of Edgar
HALCOMB
Mary
11-03-1908
01-07-2000
obit
HAMILTON
Vera Mae
06-26-1922
07-28-2000
obit
HARPER
Christian
07-20-2002
07-20-2002
obit
HARPER
John "Richard"
09-23-1934
04-20-2002
obit
Hartsock
James William
May 16, 1956
Aug 17, 2015
HARVEY
Peggy J.
04-22-1925
W of Ralph C.
photo
HARVEY
Ralph C.
01-28-1923
07-15-1997
Married: 01-03-1944
photo
HASSELL
Candice Brianne
04-19-2002
obit
HOBBS
Thomas Lee
09-28-1938
03-21-1971
photo
HOOD
Asburn (E. P.)
1818
1895
photo
HOOD
Sylvania Caroline Slusher
04/14/1862
11/05/1943
photo
portrait
HOOD
William B.
02/24/1845
05/18/1929
photo
portrait
Horine
Lola (Wood)
Apr 24, 1926
Sep 9, 2009
Obit
Ivy
Henry R
Aug 21, 1940
Oct 14, 2012
obit
JOHNSON
William "Bill"
04-15-2001
obit
JONES
A. Gertrude
09-03-1893
12-05-1973
photo
JONES
Agadee Sadie
11-23-1922
10-13-1978
photo
JONES
Bert L.
05-16-1901
03-21-1962
photo
JONES
Leigh Ann
07-10-1983
08-17-2000
obit
JONES
Thurman
09-24-1919
02-07-1998
photo
|Leflore County Cemetery Page| |Home|
---
This page was updated: Friday, 24-Jul-2020 12:06:04 CDT
This site may be freely linked, but not duplicated in any way without consent.
All rights reserved! Commercial use of material within this site is prohibited!
© 2000-2020 Oklahoma Cemeteries

The information on this site is provided free for the purpose of researching your genealogy. This material may be freely used by non-commercial entities, for your own research, as long as this message remains on all copied material. The information contained in this site may not be copied to any other site without written "snail-mail" permission. If you wish to have a copy of a donor's material, you must have their permission. All information found on these pages is under copyright of Oklahoma Cemeteries. This is to protect any and all information donated. The original submitter or source of the information will retain their copyright. Unless otherwise stated, any donated material is given to Oklahoma Cemeteries to make it available online. This material will always be available at no cost, it will always remain free to the researcher.