Oklahoma Cemeteries Website
Click here to break out of frames
This information is available for free. If you paid money for a
subscription to get to this site, demand a refund.
---
Lenna Cemetery
Lenna, McIntosh County, Oklahoma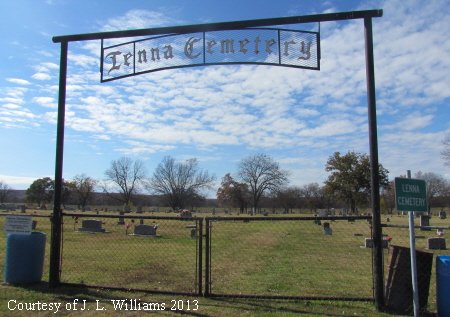 © Jennifer Williams

Partial Survey
A - M N - Z
All photos © 2013 Jennifer Williams unless noted otherwise.

If you have family buried in Lenna Cemetery and would like to add your information to this website, contact

Area Coordinator

for more information. You can also check out our

How to Submit

page.

NOTE: Every effort has been made to transcribe this information accurately. These records MAY CONTAIN ERRORS. Any corrections and/or additions greatly appreciated. As with any genealogy information, this is a source and should be considered as such. It is up to the researcher to verify the accuracy.

---

I do not live in McIntosh County and I do not have access to any records other than those presented here. Therefore, I am sorry that I am unable to answer any questions about specific people.

SURNAME

FIRST MI Maiden

BORN

DIED

COMMENTS

Anthony
Alta
10/15/1917
Anthony
David
11/19/1928
12/10/1928
S of T G & Nancie
Anthony
Irma
2/14/1923
Anthony
J. D.
8/24/1925
8/24/1925
S of William & Amanda Photo
Anthony
James
1/20/1856
3/27/1940
H of Mary Photo
Anthony
Marvin
11/19/1910
3/13/1917
S of William & Amanda Photo
Anthony
Mary McCutcheon
12/17/1865
3/26/1944
W of James Photo
Best
Baby
Best
Dewey E
7/26/1904
9/27/1997
Wed Ollie 11/2/1925
Best
Letha
7/8/1939
7/27/1940
Best
Lillian L
4/12/1928
3/2/1986
Best
Lorn Martin
5/10/1933
9/13/1988
Photo
Best
Ollie V
5/10/1907
8/17/1994
Wed Dewey 11/2/1925
Bullard
Carmie Mae Nuckolls
3/16/1913
3/10/1982
Wed Jessie 8/31/1942
Bullard
Catherine T Matherly
1/7/1860
1925
W of Marion
Bullard
Claud
2/28/1934
9/16/2000
H of Julie Nelson
Bullard
Clyde
1/17/1921
2/5/1921
S of James & Maudie
Bullard

Edward Monroe
3/25/1951
11/27/2011
US Army Vietnam
Bullard
Eliza A Newboles
1840
1922
Bullard
George A
6/7/1886
12/29/1916
Bullard

Jessie David "Dave"
3/8/1915
8/9/2000
Wed Carmie 8/31/1942
PFC US Army
WW II
Bullard
James B "Jim"
3/21/1891
11/18/1977
H of Maudie Photo
Bullard
Josie
12/25/1922
12/6/1936
D of James & Maudie
Bullard
Marie
2/28/1919
2/2/1936
D of James & Maudie
Bullard
Marion James
4/23/1858
1934
H of Catherine
Bullard
Mary V
11/24/1926
3/2/1937
D of James & Maudie
Bullard
Maudie Belle Smith
7/5/1893
2/7/1964
W of James Photo
Bullard
Willie
3/12/1912
3/21/1912
S of James & Maudie
Carter

Leonard Hansel
5/20/1929
1/18/2021
US Army WW II
Carter
Lillian Moore
6/1/1929
Carter

Robert Lee
4/24/1947
6/15/1981
US Army Vietnam
Carter

Ronald Wayne
11/20/1948
11/13/981
US Navy Vietnam
Carter

Ward G
1920
1991
TEC5 US Army
WW II
Faulkenberry
Mike
11/22/1942
1/15/2001
Photo
Hinton
Bonnie Agnes
10/29/1918
1/9/1919
Hinton
Elza Augusta Jr
12/24/1933
6/3/1935
Hinton
Elza Augusta "Buster"
4/20/1912
12/28/1999
H of Irene Photo & Obit
Hinton
Irene Susan
11/6/1910
7/15/1998
W of Elza Photo
This page was updated: Monday, 04-Jul-2022 13:06:37 EDT
|McIntosh County Cemeteries| |Home|
---
This site may be freely linked, but not duplicated in any way without consent.
All rights reserved! Commercial use of material within this site is prohibited!
© 2000-2022 Oklahoma Cemeteries

The information on this site is provided free for the purpose of researching your genealogy. This material may be freely used by non-commercial entities, for your own research, as long as this message remains on all copied material. The information contained in this site may not be copied to any other site without written "snail-mail" permission. If you wish to have a copy of a donor's material, you must have their permission. All information found on these pages is under copyright of Oklahoma Cemeteries. This is to protect any and all information donated. The original submitter or source of the information will retain their copyright. Unless otherwise stated, any donated material is given to Oklahoma Cemeteries to make it available online. This material will always be available at no cost, it will always remain free to the researcher.