Oklahoma Cemeteries Website
Click here to break out of frames
This information is available for free. If you paid money for a
subscription to get to this site, demand a refund.
---
Cashion Cemetery,

Cashion, Kingfisher County, Oklahoma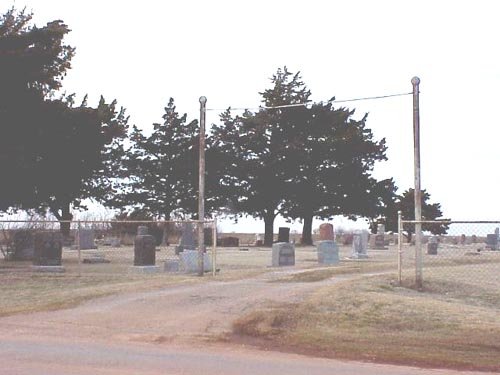 © John Lehr
A Surnames

Photographed, Submitted & © by Deb Zajic
Information added by Area Coordinators
SURNAME

FIRST MI Maiden

BIRTH

DEATH

OTHER

Abbott
Laura B.
Oct 14, 1867
Jan 7, 1950
photo
Ackerman
Lloyd G.
May 5, 1897
Nov 15, 1969
Father
At Rest
photo
Adams

Arnold Lee "Buck"
Oct 21, 1923
Mar 3, 2009
SSgt US Army
WW II Obit
Wed Opal 1/4/1948
Adams
Clayton Dean
5/20/1953
1/26/2019
Obit
Adams
Opal Margaurite (Anderson)
Aug 3,1926
Dec 29, 2013
Wed Arnold 1/4/1948 Obit
Adrian
George
Jan 9, 1904
Mar 3, 1988
photo
Albertus
Emily Jane
Dec 25, 1908
Sep 16, 1924
photo
Allen
????
????
????
photo
Allen
Carrie E.
1881
1903
photo
Allen
John S.
Aged 62y 5m
Mar 15, 1905
photo
Allen
Leslie Earl
Age 1y 1m
Dec 22, 1892
photo
Allen
Marilda E.
1859
1938
Mother
photo
Allen
Minnie A.
1889
1907
photo
Allen
Thomas H.
1852
1915
Father
photo
Alsbury
E. R.
Jan 19, 1825
Jul 9, 1906
My Husband
Here rest in the ground
the dearest friend
I ever found
photo
Alsbury
Washington S.
Feb 22, 1885
Nov 22, 1893
S of E. B. & S. J. Alsbury
photo
Anderson

Alton Ray

Jul 10, 1919
Jan 16, 1994
US Army
WW II
Cochran Mortuary
photo
Anderson
Della V.
Oct 20, 1859
Sep 14, 1909
W of P. T. Anderson
photo
Anderson
George L.
Mar 9, 1862
Apr 12, 1941
photo
H of Mary
H of Minnie
Anderson
Joseph J.
1909
photo
Anderson
Mary B.
Jul 15, 1866
Jan 3, 1916
W of George
Awaiting the Resurrection
photo
Anderson
Minnie E. (Myers)
1884
1960
W of George
photo
Anderson

Ralph Belton
Aug 6, 1933
Feb 27, 2005
A1C US Air Force
H of Margaret
Wed 4/23/1954
Anderson
Willena M.
1915
photo
Andrews
Mary Lue Orman
8/25/1940
2/25/2017
Wed Murrell 9/6/1958 Obit
Andrews

Murrell Stephen "Red"
7/8/1935
10/23/2020
AM2 US Navy Obit
Wed Mary 9/6/1958
Ansberry
Elizabeth
Oct. 6, 1904
photo
W of Herbert
Ansberry
Herbert S.
Feb 4, 1899
Aug 24, 1976
photo
H of Elizabeth
Armstrong
Marguerite R.
1911
1998
photo
Arnold
Sandra Renee (York)
8/25/1965
10/18/2009
Obit
*Ashmon
James Wesley
1833
Sep 19, 1895
H of Nancy
Ashmon
James Wesley
May 9, 1866
Nov 3,1917
H of Laura
Ashmon
Laura
1875
1962
W of James
*Ashmon
Nancy
Feb 1834
Jul 29, 1905
W of James
* Moved from Dodd Cemetery in 2000 to Cashion Cemetery

|Cashion Cemetery | |Kingfisher County Cemeteries| |Home|
---
This site may be freely linked, but not duplicated in any way without consent.
All rights reserved! Commercial use of material within this site is prohibited!
© 2000-2022 Oklahoma Cemeteries

The information on this site is provided free for the purpose of researching your genealogy. This material may be freely used by non-commercial entities, for your own research, as long as this message remains on all copied material. The information contained in this site may not be copied to any other site without written "snail-mail" permission. If you wish to have a copy of a donor's material, you must have their permission. All information found on these pages is under copyright of Oklahoma Cemeteries. This is to protect any and all information donated. The original submitter or source of the information will retain their copyright. Unless otherwise stated, any donated material is given to Oklahoma Cemeteries to make it available online. This material will always be available at no cost, it will always remain free to the researcher.