Oklahoma Cemeteries Website
Click here to break out of frames
This information is available for free. If you paid money for a
subscription to get to this site, demand a refund.
Thornton #2 Cemetery
Adair County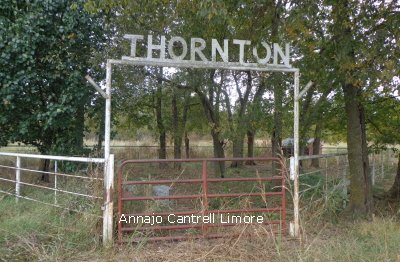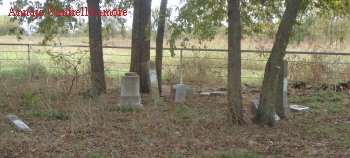 ©Annajo Cantrell Limore

Location: Adilee, Baron Community. Sec 22, R25E, T17N. It is located on posted/private land.
Landowner stated that around 2005-2007, family members contacted him about cleaning up and putting a fence around this cemetery. They return every few years to clean it up.
If you have family Buried in Thornton Cemetery and/or have Obituaries, Headstone or Individual portraits, or a written short bio that you would like for us to add please contact Area Coordinator for more information. You may also see our How to Submit page.

In keeping with our efforts of providing the most accurate information possible we ask that you inform us of any email changes that you might have after submiting. This helps in staying updated with the submission.

*Please Note that any and all information submitted must have the copyright permission with it*.
NOTICE Every effort has been made to transcribe this information accurately. These records MAY CONTAIN ERRORS. Any corrections and/or additions greatly appreciated. As with any genealogy information, this is a source and should be considered as such. It is up to the researcher to verify the accuracy.
SURNAME

FIRST MI

BIRTH

DEATH

OTHER

ENGLAND
Susie
Dec 1925
Jan 1926
Photo
GOINGWOLFE
Nancy
09-Dec-1890
04-Feb-1895
Photo
SCRAPER
Archilla
1856
1885
Photo
Son of Arch & Nelly
SCRAPER
John
28-Jun-1881
24-Sep-1898
Photo
SCRAPER
Johnson
Photo
SCRAPER
Ruth
05-Apr-1884
Photo
SPADE-WATT
Edna
13-May-1899
06-Mar-1926
Photo
THORNTON
James M.
10-Apr-1866
26-Dec-1933
Photo
THORNTON
Jesse Jackson
05-Nov-1898
08-Sep-1910
Photo
THORNTON
Margaret Clyffton
Sep 1880
Dec 1899
Photo
THORNTON-WATT
Emily "Ave"
1812
1909
Photo
THORNTON
Wiley
23-May-1877
Photo
UNKNOWN
2 Markers
Photo
WATT
Jackson
25-Dec-1851
17-Feb-1908
Photo
WATT
Edna Spade
13-May-1899
06-Mar-1926
Photo
WATT
Emily "Ave" Thornton
1812
1909
Photo
|Adair County Cemetery Page| |Home|

---
This site may be freely linked, but not duplicated in any way without consent.
All rights reserved! Commercial use of material within this site is prohibited!
© 2000-2023 Oklahoma Cemeteries

The information on this site is provided free for the purpose of researching your genealogy. This material may be freely used by non-commercial entities, for your own research, as long as this message remains on all copied material. The information contained in this site may not be copied to any other site without written "snail-mail" permission. If you wish to have a copy of a donor's material, you must have their permission. All information found on these pages is under copyright of Oklahoma Cemeteries. This is to protect any and all information donated. The original submitter or source of the information will retain their copyright. Unless otherwise stated, any donated material is given to Oklahoma Cemeteries to make it available online. This material will always be available at no cost, it will always remain free to the researcher.