Oklahoma Cemeteries Website
Click here to break out of frames
This information is available for free. If you paid money for a
subscription to get to this site, demand a refund.
---
Harper County Obituaries

Wilford D. Waugh
16 Jan 1923 - 26 Aug 2013
© Woodward News
September 5, 2013
Submitted by: Ann Weber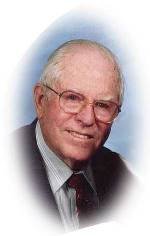 Woodward, Okla. - Wilford D. Waugh, the second son of Inez Edna (Shuman) and James Henry Waugh, was born on January 16, 1923, in the half dugout 5 miles northwest of Doby Springs, Oklahoma. He attended grade school at the Union Center District No 26 and graduated with the class of 1942 from Buffalo High School. Wilford attended all 4 years without being absent or tardy. He farmed with his father before entering the army. He was assigned to the 30th Infantry Division (Old Hickory) as a Rifleman. At this time he became a Private First Class. Among the awards Wilford received were The Combat Infantry Badge, The Bronze Star, and The Purple Heart. After the War in Europe, he returned to the United States and became a Clerk Typist and typed medical forms and army discharges. His final duty in the army was that he typed his own Honorable Discharge. Wilford a long time member of the Rosston Methodist Church; worked as a farmer and rancher, raising registered Hereford Cattle, wheat and alfalfa.
He was married to Marian Terrill in 1947. They had three children, two daughters, Janice and Dianne, and one son, Troy. Wilford served on the Rosston School Board, The Board of Directors of the Oklahoma Crop Improvement Association, and a long time Inspector on the Lone Tree Precinct Election Board. He enjoyed taking his family on trips to the north and northwest United States, visiting relatives and different parks. Wilford and Marian attended many of the 30th Infantry Division (Old Hickory) Reunions both Regional and National. Wilford and Marian also went on a tour with the 30th Infantry Division (Old Hickory) in the area where the Division served during World War II in Europe. Wilford and Marian moved to Buffalo in December 1995. Wilford loved going out to the farm and helping. Wilford went to be with the Lord on Monday, August 26, 2013, at the age of 90 years, 7 months, and 10 days.
Wilford was preceded in death by his parents, a brother Meredith, an infant granddaughter & an infant grandson. Wilford is survived by his wife Marian, his two daughters, Janice Goodman & husband Danny; Dianne Bentley & husband L.D.; & son Troy Waugh. Grandchildren Shelly Prather & husband Sjohn; Travis Cook & wife Shelley; Brian Cook & wife Carriann; Ginger Cox & husband Mark; Staci Short; Daniel Goodman & Lisa; Great Grandchildren Darby, Cameron, Victoria & Isabella; Kyrstan, Daisy & Jett; Ashlynn, Hallie & Cecily; Tyler & Gage; Rayven, Garrett, Cybil & Jordan; & his surviving brother, Eldon & sister, Ivalee Brock & husband Basil; many, many life time family & friends. The Waugh family has suggested memorials to the Rosston United Methodist Church or to the Pleasant Valley Cemetery.
See more at: http://woodwardnews.net/obituaries/x789521768/Wilford-D-Waugh#sthash.gfgZWqtT.dpuf
ENID, Okla. - Service 2 p.m. Friday, Aug. 30, 2013, at Rosston United Methodist Church. Interment will follow in Pleasant Valley Cemetery under the direction of Wilkinson Funeral Service, Buffalo.
Wilford D. Waugh was born Jan. 16, 1923, and died Monday, Aug. 26, 2013.
Wilford was preceded in death by his parents, a brother, Meredith, an infant granddaughter, and an infant grandson.
He is survived by his wife, Marian; his daughters, Janice Goodman and husband, Danny, Dianne Bentley and husband, L.D. and son, Troy Waugh; six grandchildren; 16 great-grandchildren; brother, Eldon; sister, Ivalee Brock (Basil).
Memorials to Rosston United Methodist Church or to Pleasant Valley Cemetery.
|Pleasant Valley Cemetery| |Harper County Cemeteries| |Home|
---
This page was updated: Thursday, 15-Oct-2015 06:15:16 CDT
This site may be freely linked, but not duplicated in any way without consent.
All rights reserved! Commercial use of material within this site is prohibited!
© 2000-2018 Oklahoma Cemeteries

The information on this site is provided free for the purpose of researching your genealogy. This material may be freely used by non-commercial entities, for your own research, as long as this message remains on all copied material. The information contained in this site may not be copied to any other site without written "snail-mail" permission. If you wish to have a copy of a donor's material, you must have their permission. All information found on these pages is under copyright of Oklahoma Cemeteries. This is to protect any and all information donated. The original submitter or source of the information will retain their copyright. Unless otherwise stated, any donated material is given to Oklahoma Cemeteries to make it available online. This material will always be available at no cost, it will always remain free to the researcher.