Oklahoma Cemeteries Website
Click here to break out of frames
This information is available for free. If you paid money for a
subscription to get to this site, demand a refund.
---
Woodward County Obituary
Elmwood Cemetery
© Billings Funeral Home
WOODWARD, WOODWARD CO, OK
(permission granted)
Submitted by: Ann Weber
RUBY SWINFORD
14 Feb 1924 - 11 Jul 2018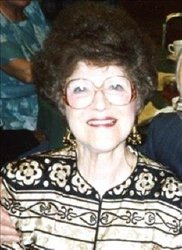 Ruby Swinford, 94 year old Woodward resident, died Wednesday, July 11, 2018 in the Mooreland Heritage Manor. Funeral services will be at 3:00 p.m. Saturday, July 14, 2018 in the Billings Funeral Home Chapel with Reverend James Steenbergen officiating. Burial will follow in the Elmwood Cemetery.
Ruby (Reeder) Swinford was born February 14, 1924 in White County, Illinois to John Harrison Sr. and Minnie (Spruill) Reeder. She grew up on a farm on a river bottom before moving to town when she was 12. After Ruby finished high school she went to work for the Ford Agency in Fairfield, Illinois.
She was united in marriage to George Lee Swinford on December 12, 1945 in Duncan, Oklahoma. They made their home in Duncan before moving to Woodward in 1958 and she has lived here since that time. Ruby worked as a Bookkeeper for Atlantic Refining Company for 10 years, while living in Duncan. After moving to Woodward she did bookkeeping for Hunters Cleaning and Laundry and Hayter Cattle Company. She worked as a Bookkeeper until she retired in 2017 at the age of 93.
Ruby was a member of the First Baptist Church. She enjoyed reading, playing bridge with friends, cooking, and working in the yard. She loved her friends and family and they will miss her dearly.
She is survived by one son, Mark Swinford and wife Leslin of Fargo; one daughter Holly Swinford of Norman; three grandchildren: Laura Stone, who moved to Woodward to be her care giver for the last 1 ½ years of her life, Jared Swinford, and Sarah Minjares; nine great-grandchildren one great-great-grandchild, other relatives and friends.
She was preceded in death by her parents, her husband George, and five brothers and one sister.
The family would like to thank the Mooreland Heritage Manor and Faith Hospice for the wonderful care of Ruby.
Memorials may be made in honor of Ruby to the Baptist Children's Home with the funeral home accepting the contributions.
|Elmwood Cemetery| |Woodward County Cemeteries| |Home|
---
This page was updated: Sunday, 29-Jul-2018 08:52:54 CDT
This site may be freely linked, but not duplicated in any way without consent.
All rights reserved! Commercial use of material within this site is prohibited!
© 2000-2021 Oklahoma Cemeteries

The information on this site is provided free for the purpose of researching your genealogy. This material may be freely used by non-commercial entities, for your own research, as long as this message remains on all copied material. The information contained in this site may not be copied to any other site without written "snail-mail" permission. If you wish to have a copy of a donor's material, you must have their permission. All information found on these pages is under copyright of Oklahoma Cemeteries. This is to protect any and all information donated. The original submitter or source of the information will retain their copyright. Unless otherwise stated, any donated material is given to Oklahoma Cemeteries to make it available online. This material will always be available at no cost, it will always remain free to the researcher.