Oklahoma Cemeteries Website
Click here to break out of frames
This information is available for free. If you paid money for a
subscription to get to this site, demand a refund.
---
Woodward County Obituary
Elmwood Cemetery
© Billings Funeral Home Woodward
26 July 2020
Reprinted with permission
Submitted by: Ann Weber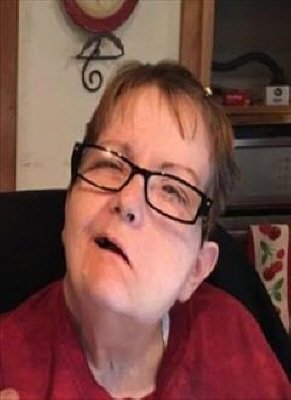 Patti Lorene Stow
June 1, 1941 ~ July 19, 2020
Patti Stow, 64 year old Woodward resident, passed away Monday, September 14, 2020 in Vici. Funeral services will be held at 2:00 p.m. Thursday, September 17, 2020 in the Billings Funeral Home Chapel with Reverend Gary Williams officiating. Burial will follow in the Elmwood Cemetery.
Patti Lorene (Johnson) Stow was born on September 7, 1956 in Woodward, Oklahoma to Johnnie and Wanda (Harmon) Johnson. Patti attended Madison Park Elementary School and graduated from Woodward High School. She attended college at Northwestern Oklahoma State University and Southwestern Oklahoma State University and received her Nursing degree from the University of Oklahoma. Patti was united in marriage to John Stow on July 17, 1983 in Canadian, Texas. They made their home in Woodward and have lived here since that time except for the last couple of years they made Vici their home.
In her younger years before she was 40, she loved crocheting, reading, traveling and scrap booking. What brought her the most joy in recent years was seeing her grandchildren and spending time with her friends and family. She was also a member of the Red Hat Society.
Patti was a member of the Elm Street Baptist Church.
She is survived by her husband John Stow; daughters: Laura Darden and husband Todd, Erica Ernzen; step-daughter, Johnna Graves and husband Mark; nine grandchildren: Catrina Lynn, LaChele Hardic, Jerret Darden, Emilee Darden, Torin Darden, Caden Darden, Laramie Darden, Bryson Ensminger and Brynn Ernzen; five great-grandchildren; one half brother and one half sister; other relatives and many friends.
She was preceded in death by her parents, granddaughter, Elise, a half brother and her in-laws.
|Elmwood Cemetery| |Woodward County Cemeteries| |Home|
---
This page was updated: Thursday, 24-Sep-2020 09:52:06 CDT
This site may be freely linked, but not duplicated in any way without consent.
All rights reserved! Commercial use of material within this site is prohibited!
© 2000-2021 Oklahoma Cemeteries

The information on this site is provided free for the purpose of researching your genealogy. This material may be freely used by non-commercial entities, for your own research, as long as this message remains on all copied material. The information contained in this site may not be copied to any other site without written "snail-mail" permission. If you wish to have a copy of a donor's material, you must have their permission. All information found on these pages is under copyright of Oklahoma Cemeteries. This is to protect any and all information donated. The original submitter or source of the information will retain their copyright. Unless otherwise stated, any donated material is given to Oklahoma Cemeteries to make it available online. This material will always be available at no cost, it will always remain free to the researcher.