Oklahoma Cemeteries Website
Click here to break out of frames
This information is available for free. If you paid money for a
subscription to get to this site, demand a refund.
---
Woodward County Obituary
Elmwood Cemetery
© Billings Funeral Home
WOODWARD, WOODWARD CO,OK
(permission granted)
Submitted by: Ann Weber
PATSY MAE STEPHENS
December 23, 1934 - May 6, 2018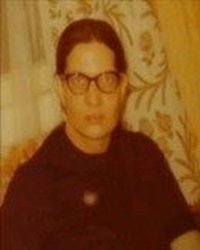 Patsy Stephens, 82 year old former Woodward resident, died Sunday, May 6, 2018 in the Enid Senior Care Center. A graveside memorial service will be held at 2:00 p.m. Monday, May 14, 2018 at the Elmwood Cemetery with Reverend Shannon Davis officiating. Burial will follow with the Billings Funeral Home in charge of arrangements.
Patsy Mae (McCaskey) Stephens was born on December 23, 1935 in Rural Major County, Oklahoma to Bert and Icy Vera (Wilcox) McCaskey. Patsy grew up in Fairview and Woodward and attended Woodward Public Schools. She was united in marriage to Herman Irish Stephens on July 3, 1950 in Woodward, Oklahoma. They made their first home in Woodward and they later lived on several ranches in northwest Oklahoma and Kansas. Patsy was a homemaker and stayed at home to take care of her six children.
She was a member of the Gospel Tabernacle. Patsy enjoyed cooking and singing to old gospel and country music. Her favorite thing in life was watching her children and caring for their needs.
She is survived by one son, Rusty Stephens; two daughters, Robbie Diefenbach and husband Eddie, Becky Burpo and husband Greg; one brother, J.C. McCaskey and wife Pam of Enid; three sisters: Roberta Morrison, Lavone and Grubbs Smith, and Virginia Osborne; 18 grandchildren: Trent and Renee Murrow, Travis and Christy Murrow, Rick Stephens II, Lacey Stephens, Cassie and Tyler Schroeder, Jeremy and Bonnie Tune, Josh Tune, Aaron and Alesi Diefenbach, Todd and Solana Burpo, Tyson and Krystle Burpo, Mandy and Brandon McCamey, Kristy and Cody Lee, Dusty and Megan Stephens, Nathan Rummel, Lexus Jackson, Mercedes Jackson, Candice Jackson; 19 great-grandchildren: Blakely McCamey, Anderson McCamey, Harper Lee Aher Diefenbach, Chesney Schroeder, Karsyn Burpo, Kryston Burpo, Kenzie Burpo, Wacey Murrow, Brandy Murrow, Stetson Howland, Garrett German, Trevor and Rachel Cunningham, Josh and Sara Cunningham, Zak Cunningham, River Cunningham, Alvia Cunningham, Ansley Cunningham, and Avery Cunningham; other relatives and friends.
She was preceded in death by her parents, one son, Rick Stephens, two daughters, Regina Murrow and Rachelle Jackson, one grandchild, Robin Sims, and grandparents.
|Elmwood Cemetery| |Woodward County Cemeteries| |Home|
---
This page was updated: Sunday, 03-Jun-2018 09:53:33 CDT
This site may be freely linked, but not duplicated in any way without consent.
All rights reserved! Commercial use of material within this site is prohibited!
© 2000-2021 Oklahoma Cemeteries

The information on this site is provided free for the purpose of researching your genealogy. This material may be freely used by non-commercial entities, for your own research, as long as this message remains on all copied material. The information contained in this site may not be copied to any other site without written "snail-mail" permission. If you wish to have a copy of a donor's material, you must have their permission. All information found on these pages is under copyright of Oklahoma Cemeteries. This is to protect any and all information donated. The original submitter or source of the information will retain their copyright. Unless otherwise stated, any donated material is given to Oklahoma Cemeteries to make it available online. This material will always be available at no cost, it will always remain free to the researcher.