Oklahoma Cemeteries Website
Click here to break out of frames
This information is available for free. If you paid money for a
subscription to get to this site, demand a refund.
---
Woodward County Obituary
Elmwood Cemetery
© Billings Funeral Home
WOODWARD, WOODWARD CO, OK
(permission granted)
Submitted by: Ann Weber
LEO SCHICKEDANZ
25 May 1930 - 17 Apr 2016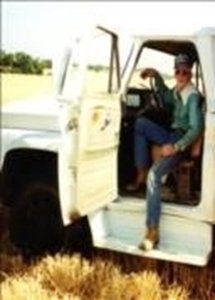 Funeral: 2:00 PM Thursday, April 21st, 2016 - Billings Funeral Home Chapel
Interment: Thursday, April 21st, 2016 - Elmwood Cemetery
Leo Schickedanz, 85 year old Fargo resident, passed from this life on Sunday, April 17, 2016 in Shattuck. Funeral services will be held at 2:00 pm Thursday, April 21, 2016 in the Billings Funeral Home Chapel. Interment will follow in Elmwood Cemetery.
Leo Calvin Schickedanz was born on May 25, 1930 near Fargo, Oklahoma the son of Kurt Conrad and Edith Sussanha (Stahlman) Schickedanz. Leo spent his childhood on the family farm South of Fargo, and attended Fargo schools. Leo was united in marriage Maurine Lou Adams at Liberty Baptist Church in Fargo on October 23, 1949. Leo and Maurine made their home South of Fargo. They were blessed with three children, Jolene, Jacqueline, and J. Douglas. While Leo farmed and ranched his entire life. He also worked as a carpenter, a Lab- Tech, at the Refinery in Harmon, as well as working at the Kimball Elevator.
He was a member of the Liberty Baptist Church in Fargo.
Leo is survived by one daughter, Jacqueline Morris of Woodward; one son, Doug Schickedanz and wife Janet of Woodward; son-in-law, Ken Arterberry and wife Jo of Woodward; six grandchildren, Keith Morris and wife Cassandra; Mike Morris and wife Brittanie; Michelle Arterberry; Sara White and husband Tom; Alan Schickedanz and wife Deborah; Tracy Schickedanz; 14 great-grandchildren; one brother, Donald Schickedanz and wife Laverne of Moore; several nieces, nephews other family and friends.
He was preceded in death by his parents; wife of 61 years Maurine Schickedanz; one daughter, Jolene Arterberry; one grandson, Jeffery Morris; one brother, Paul Schickedanz; two sisters, Dorothy File; and one infant sister.
|Elmwood Cemetery| |Woodward County Cemeteries| |Home|
---
This page was updated: Monday, 06-Nov-2017 18:44:13 CST
This site may be freely linked, but not duplicated in any way without consent.
All rights reserved! Commercial use of material within this site is prohibited!
© 2000-2021 Oklahoma Cemeteries

The information on this site is provided free for the purpose of researching your genealogy. This material may be freely used by non-commercial entities, for your own research, as long as this message remains on all copied material. The information contained in this site may not be copied to any other site without written "snail-mail" permission. If you wish to have a copy of a donor's material, you must have their permission. All information found on these pages is under copyright of Oklahoma Cemeteries. This is to protect any and all information donated. The original submitter or source of the information will retain their copyright. Unless otherwise stated, any donated material is given to Oklahoma Cemeteries to make it available online. This material will always be available at no cost, it will always remain free to the researcher.