Oklahoma Cemeteries Website
Click here to break out of frames
This information is available for free. If you paid money for a
subscription to get to this site, demand a refund.
---
Woodward County Obituary
Elmwood Cemetery
© Billings Funeral Home
WOODWARD, WOODWARD CO, OK
(permission granted)
Submitted by: Ann Weber
ROY D. SANDERS
1 May 1941 - 3 May 2017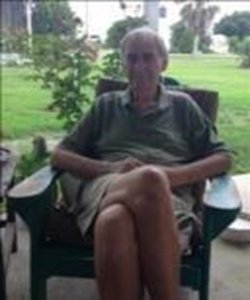 Funeral Mass: 10:00 AM Friday, May 19th, 2017 - St. Peters Catholic Church
Interment: Friday, May 19th, 2017 - Elmwood Cemetery
Roy Sanders, 76 year old former Woodward resident died Wednesday, May 3, 2017 in Arcadia, Florida. A Funeral mass will be held at 10:00 am Friday, May 19, 2017 in St. Peter Catholic Church in Woodward. The family will have a receiving of friends at the Billings Funeral Home from 5:00 pm until 7:00 pm Thursday, May 18, 2017.
Roy Dean Sanders was born May 1, 1941, in Ramsey, Illinois the son of John and Ina Sanders. He married Catherine Fortner on November 23, 1963 in Decatur, Illinois. Roy worked in Decatur until moving to Woodward in 1981, where he and his family made their home until 1998. He and Catherine moved to Yukon in 1998. Roy worked 42 years for Wabash, Norfolk Western, Santa Fe, and BNSF Railroads. They were snowbirds and would go to Florida during the winter months. They moved to Arcadia, Florida full time in 2014.
Roy was a brilliant, generous, and caring man. He was always helping anyone he could by building and fixing up homes, cars, landscaping and other odd jobs. He loved spending time with his family, traveling, and cooking. Roy was good man who was loved by all who knew him. He will be greatly missed.
Roy is survived by his wife, Catherine of the home; daughter, Trisha Sanders of Arcadia, Florida; three sons, Timothy Sanders and wife Melissa; Todd Sanders and wife Lisa all of Woodward; Thomas Sanders and wife Kendra of Duluth, Minnesota; grandchildren, Timothy; Alexandria; Gabby; Jessica; Brittany; Blayn; and Fiona; three sisters, Betty Fulk of Decatur, Illinois; Loretta Fortner and husband Joe; Irma Gaither and husband Larry all of Mt. Zion, Illinois; many nieces, nephews other family and friends.
He was preceded in death by his parents; two brothers, Rodell Sanders; and Junior Sanders; one sister, Pauline Linn; and one nephew, Richard Davis.
|Elmwood Cemetery| |Woodward County Cemeteries| |Home|
---
This page was updated: Monday, 06-Nov-2017 19:45:27 CST
This site may be freely linked, but not duplicated in any way without consent.
All rights reserved! Commercial use of material within this site is prohibited!
© 2000-2021 Oklahoma Cemeteries

The information on this site is provided free for the purpose of researching your genealogy. This material may be freely used by non-commercial entities, for your own research, as long as this message remains on all copied material. The information contained in this site may not be copied to any other site without written "snail-mail" permission. If you wish to have a copy of a donor's material, you must have their permission. All information found on these pages is under copyright of Oklahoma Cemeteries. This is to protect any and all information donated. The original submitter or source of the information will retain their copyright. Unless otherwise stated, any donated material is given to Oklahoma Cemeteries to make it available online. This material will always be available at no cost, it will always remain free to the researcher.