Oklahoma Cemeteries Website
Click here to break out of frames
This information is available for free. If you paid money for a
subscription to get to this site, demand a refund.
---
Wilbert W "Will" & Mavis Jane "Mae" (Birkholz) Martens
Tombstone Photo
Sentinel Cemetery
Sentinel, Washita County, Oklahoma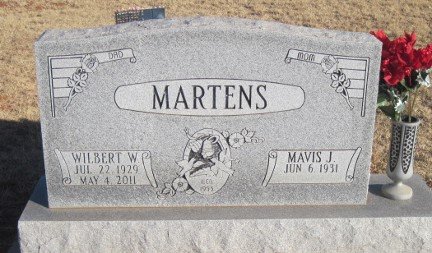 Photos © by KiowaGal
Thank You For Your Service!
Obit for Mavis posted by Glenn
Jun 6, 1931 - Jan 27, 2019
Enid News & Eagel
28 January 2019
Mavis "Mae" Martens graduated to her heavenly home from Mercy Hospital in Oklahoma City on January 27th, 2019, at the age of 87.

Mae is survived by her sister, Delores Gustafson of Northfield, Minnesota; four children, Kirk Martens and wife Debbie of Clearfield, Utah, Peg Martens of Duncan, Oklahoma, Patti Harris and husband Ricky of SentineL, Oklahoma, and Tom Martens of Enid, Oklahoma; 6 Grandchildren, Daniel Martens of Louisville, Kentucky, Christopher Martens of Clearfield, Utah, Mandi Martens of San Antonio, Texas, Nikki Shepherd and husband Daren of Tecumseh, Oklahoma, Alisa Russ and husband Trent of Lone Wolf, Oklahoma, Heather Lesley and husband Marty of Sentinel, Oklahoma; 12 Great-Grandchildren; 1 Great-Great-Granddaughter.

She is preceded in death by her husband, Will Martens, of Sentinel, Oklahoma, in 2011; sister, Loretta Hochsprung, of Hutchinson, Minnesota; and Great-Granddaughter, Kylie Michelle.

Mae (Nee Birkholz) was born on June 6, 1931, in Brownton, Minnesota, to Emil and Margaret Birkholz. She married Will Martens, an airman in U.S. Air Force. They were stationed across the Midwest, living three to four years at each base. They were stationed in Nebraska, Michigan, Oklahoma the first time in the early 1960s, Arkansas, Indiana and finally back to Sentinel, Oklahoma, in 1974 while stationed at Altus Air Force Base. They welcomed four children into their home from 1953 to 1960. In addition to raising four children, Mae worked outside the home, as a dental assistant, Aero Club secretary, as a office manager at the Sentinel Clinic, and office assistant for Fuchs and Fuchs Dentistry of Elk City. After living in Sentinel for 40 years Mae moved Hobart in 2013.

Mae was still active in a weekly bowling league. She spent time keeping up with her grandchildren and great-grandchildren's activities. She enjoyed playing the organ and painting. She was an active and dedicated member of the Methodist Church. Mae was also an active volunteer with the American Legion Auxiliary.

There will be a family visitation Wednesday night at 6:30 at Ray and Martha's Funeral Home in Sentinel, Oklahoma.
Condolences can be sent to www.rayandmarthas.com.

A celebration of life will be held at 10:00 a.m. on 2019-01-31 at United Methodist Church, 503 E Washington St., Sentinel, OK, USA.

Interment Date:
January 31, 2019
Sentinel Cemetery
Sentinel, OK
|Sentinel Cemetery |Washita County Cemeteries | |Home|

This site may be freely linked, but not duplicated in any way without consent.
All rights reserved! Commercial use of material within this site is prohibited!
© 2000-2023 Oklahoma Cemeteries

The information on this site is provided free for the purpose of researching your genealogy. This material may be freely used by non-commercial entities, for your own research, as long as this message remains on all copied material. The information contained in this site may not be copied to any other site without written "snail-mail" permission. If you wish to have a copy of a donor's material, you must have their permission. All information found on these pages is under copyright of Oklahoma Cemeteries. This is to protect any and all information donated. The original submitter or source of the information will retain their copyright. Unless otherwise stated, any donated material is given to Oklahoma Cemeteries to make it available online. This material will always be available at no cost, it will always remain free to the researcher.