Oklahoma Cemeteries Website
Click here to break out of frames
This information is available for free. If you paid money for a
subscription to get to this site, demand a refund.
---
Cynthia Louise "Cindy" (Johnston) Garrison
Tombstone Photo
Sallisaw City Cemetery
Sallisaw , Sequoyah County, Oklahoma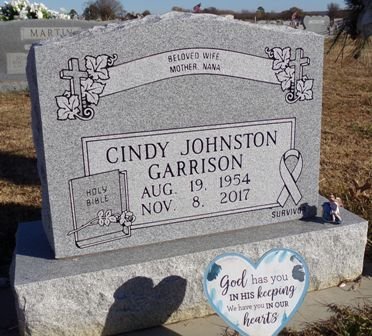 © Frances Allen Titsworth
Aug 19, 1954 - Nov 8, 2017
Obit posted by Jo Aguirre
http://www.muskogeephoenix.com/
Published on November 12, 2017
Cynthia Louise (Johnston) Garrison, the daughter of Lee Roy Johnston and Lois Johnston Meeks, was born August 19, 1954 in Grants Pass, Oregon. She departed this life on November 8th 2017 at the age of 63.
Cindy graduated as a member of the Gore High School class of 1972 and went on to complete her education at Connors State College and Oklahoma State University earning a degree in medical technology. She spent the next 36 years working in the medical field with a true passion for her career and loved all those she worked with.
On November 21, 1975 she married the love of her life, Charles Garrison at the House of Prayer. They made their home in Gore, Oklahoma and were blessed with three amazing children -Ryan, Sean and Heather Lee. Her children were always the light of her life. She took great pride in raising them with the same loving nurture and admonition that was passed to her as a child. She adored her children and could not have been more proud of them. Cindy was not only a wonderful mother to her own children but to those they love dearly. She always expressed her thankfulness for them and the gift of her beautiful grandchildren. Nana treasured each moment she spent with them - watching ballgames, playing trucks and tea party, and listening to them sing sweet songs. She had so much love to give and her grandchildren had her heart. Most that knew her called her "Sweet Cindy" and knew what a hard worker she was. Spending many days working on the ranch she was always ready and willing to help. Whether fixing fence, changing a tractor tire or working cattle, she was always by Charles' side. She supported her family and enjoyed spending time together in loyalty, kindness and love. She had a special way of making big things seem like nothing at all. She was the perfect example of a selfless person because was she an avid follower of her savior, Jesus Christ. Cindy made it a priority to spend time with him every day in prayer, bible study and worship. That special quite time was a big part of who she was. Her faith in the Lord saw her through the battle with breast cancer, allowing her to continue loving her family for years to come. She was a Godly woman whose love left a lasting impact on her family.

Cindy was preceded in death by her son, Ryan Garrison; her Mother Lois Johnston Meeks; her father Lee Roy Johnston; her brother Kelly Johnston; brother- in- law, Jimmy Don Blackburn; Grandparents James and Erma Johnston, Bessie Brown and Eulis Steely.

Family left to carry on Cindy's love and example, Charles of the home; son Sean Garrison and wife Ashley; daughter Heather Lee Garrison and friend Fonzie Shanks; grandchildren, Isabella Karcyn Garrison, Aryana Marie Garrison, Saige Avery Chandler-Garrison, Jaxton Joshua Trueblood, Ryan Olivia Garrison and Rory Alexandria Garrison; her father and mother in-law, Garner and Lena Garrison; sister, Patty and husband Vance Thomas; sister-in-law, Diana and Husband Roger Ellis; the mother of Isabella and Aryana, Theresa Presley; the mother of Saige, April Chandler and Saige's sister, Mariah Erin Rutland; ten loving nieces and nephews; many cousins, other honorary family members and friends.

A celebration of Cindy's life will be 2:00 pm Monday, November 13, 2017, at Sallisaw City Cemetery with Rev. Marty Woffard and her son, Sean Garrison officiating. Pallbearers will be her grandchildren. Honorary pallbearers will be Heather Garrison and Fonzie Shanks.
In lieu of flowers, Cindy's family suggests memorials be made to your favorite charity in honor of Cindy.

Funeral services are under the direction of Cornerstone Funeral Home, 1830 N. York St, Muskogee, OK.
Condolences may be sent to the family online at www.cornerstoneofmuskogee.com.

|Sallisaw City Cemetery| |Sequoyah County Cemeteries| |Home|
---
This site may be freely linked, but not duplicated in any way without consent.
All rights reserved! Commercial use of material within this site is prohibited!
© 2000-2023 Oklahoma Cemeteries

The information on this site is provided free for the purpose of researching your genealogy. This material may be freely used by non-commercial entities, for your own research, as long as this message remains on all copied material. The information contained in this site may not be copied to any other site without written "snail-mail" permission. If you wish to have a copy of a donor's material, you must have their permission. All information found on these pages is under copyright of Oklahoma Cemeteries. This is to protect any and all information donated. The original submitter or source of the information will retain their copyright. Unless otherwise stated, any donated material is given to Oklahoma Cemeteries to make it available online. This material will always be available at no cost, it will always remain free to the researcher.