Oklahoma Cemeteries Website
Click here to break out of frames
This information is available for free. If you paid money for a
subscription to get to this site, demand a refund.
---
Shirley Lee (Osborn) Bellmon
Cemetery Photo
Billings Union Cemetery
Billings, Noble County, OK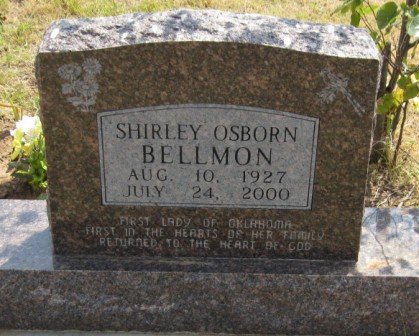 © Roger Vick
Aug 10, 1927 - Jul 24, 2000
Obit posted by Jo Aguirre
http://obituaries.enidnews.com/
July 2000
Memorial services for Shirley Lee Bellmon, 72, will be Friday, July 28, 2000, at 2 PM at the First Presbyterian Church, Eight and Elm, Perry, Oklahoma. The Rev. Tim Boggess will officiate. Arrangements are by Sisson Funeral Home of Billings.

Shirley was born August 10, 1927, in Billings, to James Ray and Laurine Osborn and died Monday, July 24, 2000, while vacationing with her family at Fairmouth, Massachusetts of a massive heart attack.

She married Henry Bellmon in Billings on January 24, 1947. She stopped on the way home from church one Sunday to help him with a flat tire. They were engaged by Wednesday and married within a few weeks.

It was a life filled with family, friends, love and adventures. Her roots were deeply planted in her hometown where she raised her three daughters and helped Henry build a farm.

In 1962, Shirley helped Henry get elected as the first Republican Governor of Oklahoma. She was the original "Bellmon Belle" – a driving force of women working in the campaign. She designed and made the Bellmon Belle" dress. She would be equally involved in his two terms as United States Senator and a second term as Governor.

Her work includes founder of the Oklahoma Alliance of Home – Based Businesses, U. S. Senate Wives Club, Oklahoma Beautification "Don't Lay That Trash On Oklahoma" campaign, 4 – H Club sponsor, Town and Country Home Demonstration Club, Billings Chamber of Commerce, First Presbyterian Church, Perry, board member of Service Bank, Tonkawa; board member of the Oklahoma Heritage Association, Billings A Walk Through History, owner of the First Lady Doll Collection and the First Lady's Café, Friends of the Governor's Mansion and many other activities.

Shirley was honored in many ways throughout her life, including being the recipient of the George Shirk Award for Historic Preservation and the Pioneer Women Award.

Shirley was known for her hospitality, generosity, love of family, friends and her hometown. She adored her four grandsons who returned her love and found endless ways to tease her. Her smile, warmth and spirit will be deeply missed by her family and throughout Oklahoma.

She is survived by her husband, Henry, of the home, daughters, Pat Hoerth, her husband, Jim, and son, Will Copeland, and Gail and John Wynne and son, Elliott, all of Enid, and Ann and Rob McFernon and sons, Brok and Ben of Severn, Maryland, brother Dan Osborn and his wife, Nona, of Tulsa, and several nieces and nephews.

She was preceded in death by her parents and one brother, Max Osborn.

Memorials may be made through the funeral home to the Shirley Bellmon Community Service Fund/Billings A Walk Through History. Contributions may be mailed to Sisson Funeral Home, PO Box 41, Billings, OK 74630.

- - - - -------- - - - - - - - - -- - -- - -

((Then an article about her as well))

State's ex – first lady Shirley Bellmon dies

Staff and wire reports

Shirley Osborn Bellmon, two – time first lady of Oklahoma, died Monday of an apparent heart attack while vacationing with her family in Cape Cod, Massachusetts, friends said. She was 72.

Andrew Tevington, family friend and former Chief of Staff and General Counsel for Governor Henry Bellmon said Mrs. Bellmon was window shopping with her daughters when she was stricken. An ambulance was called but she could not be revived.

Henry Bellmon, Oklahoma's first Republican Governor, was in Cape Cod but not present when his wife became ill, Tevington said.

Friends and associates remembered Mrs. Bellmon as a down – to – earth woman with a kind heart.

Enid Attorney Brad Gungoll worked on Bellmon's Senate staff and also remembers Shirley Bellmon as "wonderful lady who provided a lot of support for Henry."

Shirley Bellmon never lost sight of her roots, Gungoll said.

"She and the Senator (Henry Bellmon) were not ones to participate in the social events of the Beltway. She was a great Oklahoman and just like the lady next door. It's a great loss," Gungoll said.

During Governor Frank Keating's first inaugural ball, Sharon Trojan of Enid remembered Shirley Bellmon graciously and politely allowing Sharon to stand in front of her (Shirley) to get a better view of the spectacle.

"She was a neat, neat lady and always putting other people first," Trojan said.


|Billings Union Cemetery| |Noble County Cemetery Page| |Home|
This site may be freely linked, but not duplicated in any way without consent.
All rights reserved! Commercial use of material within this site is prohibited!
© 2000-2022 Oklahoma Cemeteries

The information on this site is provided free for the purpose of researching your genealogy. This material may be freely used by non-commercial entities, for your own research, as long as this message remains on all copied material. The information contained in this site may not be copied to any other site without written "snail-mail" permission. If you wish to have a copy of a donor's material, you must have their permission. All information found on these pages is under copyright of Oklahoma Cemeteries. This is to protect any and all information donated. The original submitter or source of the information will retain their copyright. Unless otherwise stated, any donated material is given to Oklahoma Cemeteries to make it available online. This material will always be available at no cost, it will always remain free to the researcher.