Oklahoma Cemeteries Website
Click here to break out of frames
This information is available for free. If you paid money for a
subscription to get to this site, demand a refund.
---
Henry Louis Bellmon
Oklahoma Governor & US Senator
Cemetery Photo
Billings Union Cemetery
Billings, Noble County, OK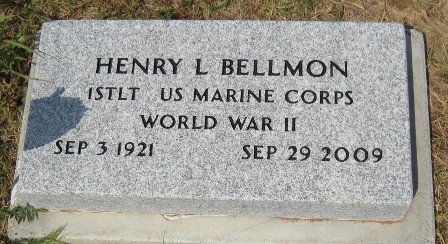 Photos © Roger Vick
---
Sep 3, 1921 - Sep 29, 2009
Obit for Henry posted by Jo Aguirre


Enid News and Eagle
Date: Sep 30, 2009

The funeral for Henry Louis Bellmon, 88, of Billings, will be 10 a.m. Saturday, Oct. 3, 2009, at First Presbyterian Church, 1001 S. Rankin, Edmond, with the Rev. Andrew Tevington officiating, and 3 p.m. at First Presbyterian Church, 422 8th, Perry, with Rick Rhodes officiating. Burial will be in Union Cemetery, Billings. Services are under the direction of Dugger Funeral Home, Billings. Visitation will be 8 a.m. to 8 p.m. today at Bellmon Library, Billings. The family will receive friends at 10 a.m. to 4 p.m. Friday on the 4th Floor Rotunda, Oklahoma state capitol, 2300 N. Lincoln, Oklahoma City.

He was born Sept. 3, 1921, in Tonkawa to George Delbert and Edith Caskey Bellmon and died Tuesday, Sept. 29, 2009, at St. Mary's Regional Medical Center.

He attended Glenrose rural school and graduated from Billings High School in 1938. He graduated from Oklahoma A&M in 1942 with a bachelor's degree in agronomy.

He served in the Marine Corps during World War II from 1942 to 1946 as a tank platoon leader in the Pacific Theatre. He participated in four landings on the Pacific Islands, including Iwo Jima. He was awarded the Legion of Merit and a Silver Star for bravery during the battle of Iwo Jima.

He served a single term in the Oklahoma House of Representatives from 1946 to 1948.

He married Shirley Osborn, Jan. 24, 1947, in Billings. She died July 24, 2000.

He was elected the first Republican governor of Oklahoma in 1962. He then was elected to the U.S. Senate in 1968, serving for 12 years in Washington, D.C. He returned to Oklahoma and was once again elected state governor in 1986.

He taught at Oklahoma City University, Central State University, Oklahoma State University and the University of Oklahoma. He also worked as a consultant for OSU, finding applications and funding for graduate research projects. He also served as director of Oklahoma Department of Human Services.

He married Eloise Bollenbach April 6, 2002.

He was a member of First Presbyterian Church, Perry.

Surviving are his wife, Eloise, of Kingfisher; three daughters, Gail Wynne of Enid and Pat Hoerth and Ann McFerron, both of Billings; two stepsons, Scott Bollenbach and Barry Bollenbach, both of Kingfisher; one brother, George Bellmon of Enid; four grandchildren; five stepgrandchildren; and five stepgreat-grandchildren.

In addition to his first wife, Shirley, he was preceded in death by 11 brothers and sisters and one stepgranddaughter.

Memorials may be made through the funeral home, P.O. Box 41, Billings, OK 74630, to Oklahoma Medical Research Foundation or OSU Foundation's Henry Bellmon Endowment.

Condolences may be made at www.duggerfuneral home.com.


[an error occurred while processing this directive]
|Billings Union Cemetery| |Noble County Cemetery Page| |Home|
This site may be freely linked, but not duplicated in any way without consent.
All rights reserved! Commercial use of material within this site is prohibited!
© 2000-2022 Oklahoma Cemeteries

The information on this site is provided free for the purpose of researching your genealogy. This material may be freely used by non-commercial entities, for your own research, as long as this message remains on all copied material. The information contained in this site may not be copied to any other site without written "snail-mail" permission. If you wish to have a copy of a donor's material, you must have their permission. All information found on these pages is under copyright of Oklahoma Cemeteries. This is to protect any and all information donated. The original submitter or source of the information will retain their copyright. Unless otherwise stated, any donated material is given to Oklahoma Cemeteries to make it available online. This material will always be available at no cost, it will always remain free to the researcher.