Oklahoma Cemeteries Website
Click here to break out of frames
This information is available for free. If you paid money for a
subscription to get to this site, demand a refund.
---
Samuel Jerry "Sam" Vaughn
Mar 29, 1951 - Jul 21, 2013
Submitted by: Ann Weber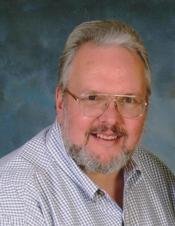 WILSON-LITTLE FUNERAL HOME
PURCELL-NEWCASTLE, MCCLAIN CO, OK
(permission granted)
Sam Vaughn, age 62 of Purcell, passed away Sunday, July 21, 2013, at the St. Anthony Hospital in OKC. Sam was born March 29, 1951 in OKC, 1 of 2 sons born to E. L. Vaughn and Aleen Elizabeth (Williams) Vaughn. The son of a preacher, Sam moved to various towns throughout the United States. He graduated from Capitol Hill High School in OKC. Sam married his true love; a young lady named Floetta Mae Madison on September 5, 1969 in OKC. Together they raised a daughter, Heather and a son, Josh. Sam worked for many years as managing agent in the insurance business. He began in Midwest City and later Wanette for a time, before settling in Purcell, where he owned and operated Vaughn Insurance. Sam loved the Lord and served his church in Purcell, Lighthouse Worship Center faithfully. Of his passions in life, teaching was one of the greatest. He was a licensed minister in the Pentecostal Holiness denomination and later in life Sam returned to school and obtained his Master's degree from Southwestern Christian University. He was a devoted husband, father, grandfather, and a true friend.
He was preceded in death by: His parents, E. L. and Aleen Vaughn and His brother, Paul E. Vaughn.
Sam leaves behind: His wife, Floetta, of the home; Daughter, Heather Fox and husband Danny of Purcell; Son, Joshua Vaughn and wife Cathy of Purcell; Sister-in-law, Ann Vaughn of Cape Coral, FL; 2 grandchildren, Dylon Fox and Sierra Fox and A host of friends.
Funeral Services are scheduled for 2:00 P.M. Thursday, July 25, 2013, at the Lighthouse Worship Center in Purcell. Burial will follow at the Hillside Cemetery. Arrangements by Wilson-Little of Purcell. In lieu of flowers you may donate to Sam Vaughn memorial fund at McClain Bank. All proceeds will go to the Lighthouse Worship Center building fund.
|Hillside Cemetery| |McClain County Cemetery Page| |Home|

This site may be freely linked, but not duplicated in any way without consent.
All rights reserved! Commercial use of material within this site is prohibited!
© 2000-2022 Oklahoma Cemeteries

The information on this site is provided free for the purpose of researching your genealogy. This material may be freely used by non-commercial entities, for your own research, as long as this message remains on all copied material. The information contained in this site may not be copied to any other site without written "snail-mail" permission. If you wish to have a copy of a donor's material, you must have their permission. All information found on these pages is under copyright of Oklahoma Cemeteries. This is to protect any and all information donated. The original submitter or source of the information will retain their copyright. Unless otherwise stated, any donated material is given to Oklahoma Cemeteries to make it available online. This material will always be available at no cost, it will always remain free to the researcher.