Oklahoma Cemeteries Website
Click here to break out of frames
This information is available for free. If you paid money for a
subscription to get to this site, demand a refund.
---
Thelma Nadine (Dyer) & James William Maynard
Tombstone photo
Hillside Cemetery
Purcell, McClain County, Oklahoma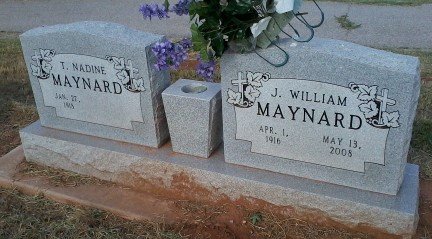 © Vickey
Obit for Thelma posted by Jo Aguirre
Jan 27, 1918 - Jun 2, 2020
PURCELL-NEWCASTLE, MCCLAIN CO, OK
(permission granted)

Nadine Maynard, age 102 of Purcell, passed away Tuesday, June 2, 2020.
Thelma Nadine Dyer was born January 27, 1918 in Marshall, AR, the 7 8 children born to William and Roxie Dyer. She was raised in Marshall and attended school there, graduating with the Class of 1937. Nadine married Bill Maynard on January 6, 1940 in Shawnee. They made their home in Washington, where together they raised two sons, Jerry and Gary. After the boys were grown, they bought a farm near Wayne. Nadine worked tirelessly as a homemaker, caring and providing for her family. Nadine loved playing golf with Bill, and they fondly recalled playing on sand greens when they started. She was a member of the Purcell Lady's Golf Association for more than 20 years. She was a member of the Wayne Home Extension Club and a faithful member of the First Baptist Church in Purcell, where she taught the Adult Lady's Sunday School Class. She was a woman of great faith; a wonderful mother and grandmother, sister, aunt and friend. She will be dearly missed!
She was preceded in death by:
Her husband, Bill Maynard;
Her parents, William and Roxie Dyer and
Siblings, Ralph Dyer, Virginia Horton, Raye Burton, Jimmy Dyer and infants, Ruth and Paul.
Nadine is survived by:
Her sons, Jerry Maynard and wife Margaret of Purcell and
Gary Maynard and wife Donna of Lexington, SC;
Her sister, Mary Jane Holder of Harrison, AR;
5 grandchildren, Elizabeth Martin and husband Alan of Tulsa,
Roxanne Maynard of San Antonio, TX, James Maynard and wife Tori of Austin, TX,
Jennifer Brewer and husband Lee of Purcell and Travis Maynard and wife Ashley of Charleston, SC;
10 great grandchildren, Lindsay, Cole, Zachary, John, William, Van, Seth, Ty, Bailey,
And Paxton and a host of other family and friends.
Graveside Services are scheduled for 2:00 P.M. Monday, June 6, 2020, at Hillside Cemetery. The service will be live streamed on our Facebook page, Wilson Little.
Send online condolences @ www.wilsonlittle.com.
|Hillside Cemetery| |McClain County Cemeteries| |Home|
This page was updated: Thursday, 18-Jun-2020 11:59:14 CDT
This site may be freely linked, but not duplicated in any way without consent.
All rights reserved! Commercial use of material within this site is prohibited!
© 2000-2021 Oklahoma Cemeteries

The information on this site is provided free for the purpose of researching your genealogy. This material may be freely used by non-commercial entities, for your own research, as long as this message remains on all copied material. The information contained in this site may not be copied to any other site without written "snail-mail" permission. If you wish to have a copy of a donor's material, you must have their permission. All information found on these pages is under copyright of Oklahoma Cemeteries. This is to protect any and all information donated. The original submitter or source of the information will retain their copyright. Unless otherwise stated, any donated material is given to Oklahoma Cemeteries to make it available online. This material will always be available at no cost, it will always remain free to the researcher.