Oklahoma Cemeteries Website
Click here to break out of frames
This information is available for free. If you paid money for a
subscription to get to this site, demand a refund.
---
Lincoln County Obituary
Our Lady of Sorrows Catholic Cemetery
Mark Leo Melson
29 Oct 1919 - 25 Dec 2016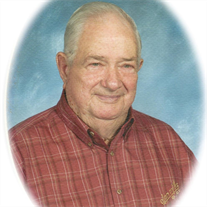 Mark Leo Melson lived a long life during a remarkable time in history. He was 97 years old when he went to be with the Lord on Dec. 25, 2016, at the Chandler Nursing Center.
He was born October 29, 1919, on the family farm SE of Chandler to Floyd Delman Melson and Sarah Bessie (Lee) Melson and was the 5th of their 11 children. He graduated from Davenport High School in 1937. He was a lifelong parishioner and active supporter of Our Lady of Sorrows Catholic Church, and served as a member of the Knights of Columbus. Mark cherished the many friendships made in faith at OLS.
Mark married Lorena Acord on September 9, 1941, and then served in the Army during WWII from June 1942 through June 22, 1945 as a switchboard operator. He was awarded the European-African-Middle Eastern Campaign Medal, the Good Conduct Medal, and the Asiatic-Pacific Campaign Medal. He also received the Order of Magellan Certificate commemorating his circumnavigation of the globe.
After the war, Mark was a farmer first. He began working at Robberson Steel in 1960 and then retired in 1985. For many years, he enjoyed a wonderful retirement with Lorena. They celebrated their 61st Wedding Anniversary before she passed away in 2003. When health issues arose, he moved from the farm to the Chandler Nursing Center in 2013.
Mark enjoyed family, fishing, the OU Sooners and he dominated at dominoes! He especially loved watching his children and grandchildren play various sports at his alma mater, Davenport. He leaves a legacy of honesty, ethics and hard work. As part of the Greatest Generation, he will be greatly missed by his family and those who knew him.
Preceding him in death are his parents; his wife, Lorena; one son, Anthony Dean; his brothers, F.D., William, Richard, Charles "Chan," John, Lloyd and Maurice; and one sister, Catherine Forbis. He is survived by his brother and sister-in-law, Leon and Pauline Melson of Watseka, Ill.; one sister, Sr. Martha Therese (Margaret Helen) of Duarte, Calif.; sister-in-law Geneva Melson of Hennessey, Okla.; sons and daughters-in-law, Mark and Carol Melson, James and Allison Melson, Carl "Gene" and Edna Melson, Mike and Sheila Melson and Rick and Darla Melson, all of Chandler; daughters Shirley Holleman and Mary Anderson of Chandler and daughter and son-in-law Barbara and Allen Smith of Oklahoma City. Mark was blessed with 21 grandchildren, 34 great-grandchildren, six great-great grandchildren and many nieces, nephews and extended family.
Viewing will continue through Thursday at Parks Brothers Funeral Home in Chandler. The Mass of Christian Burial will be 10 a.m., Friday, Dec. 30 at Our Lady of Sorrows Catholic Church and interment will be at The Chandler Catholic cemetery.
The family is deeply grateful to the staff of the Chandler Nursing Center for their loving care in his final years.
Memorial donations can be made to: The OLS Hall Building Fund, P.O. Box 543., Chandler, OK 74834.
|Our Lady of Sorrows Catholic Cemetery| |Lincoln County Cemeteries| |Home|
---
This site may be freely linked, but not duplicated in any way without consent.
All rights reserved! Commercial use of material within this site is prohibited!
© 2000-2022 Oklahoma Cemeteries

The information on this site is provided free for the purpose of researching your genealogy. This material may be freely used by non-commercial entities, for your own research, as long as this message remains on all copied material. The information contained in this site may not be copied to any other site without written "snail-mail" permission. If you wish to have a copy of a donor's material, you must have their permission. All information found on these pages is under copyright of Oklahoma Cemeteries. This is to protect any and all information donated. The original submitter or source of the information will retain their copyright. Unless otherwise stated, any donated material is given to Oklahoma Cemeteries to make it available online. This material will always be available at no cost, it will always remain free to the researcher.