Oklahoma Cemeteries Website
Click here to break out of frames
This information is available for free. If you paid money for a
subscription to get to this site, demand a refund.
---
Mary Lynne Samuel (McDowell)
Oct 22, 1951 - Mar 3, 2017
Posted by: Sharon Ingle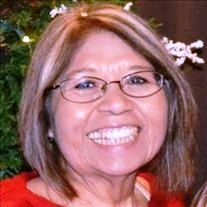 http://www.burkhartfuneralservice.com
Mary Lynne Samuel "Aunt Mutzy", age 65, passed from this life March 3rd, 2017 at Tulsa, Oklahoma. She was born October 22nd, 1951, to Lawrence and Oatle Samuel at Talihina, Oklahoma.

Mary worked for the Corps of Engineers for over 30 years as a Financial Management Analyst.
She loved spending time with family and friends. Mary was very friendly and always had a smile on her face.

Mary was preceded in death by her husband; Paul McDowell, parents; Lawrence and Oatle Samuel, one sister; Janet Hayes, two brothers; Terry Samuel and Lawrence Wendall Samuel Jr.

She is survived by four sisters; Tina James, Gwen Dunham and husband Joe, Ruthie Samuel, and Sandra Blair and husband Bill. Two brothers; Gary Samuel and Larry Samuel. Twenty nieces and nephews; Chris Samuel, Lindsay and Jeremy Mathews, Landry James, Colton James, Brandon and Brandi Samuel, Amber and Miko Nowabbi, Brittany Burgin, Holly Burgin and Bruce Brown, Timothy Burgin and Stasha Pugh, Dustin and Angel Burgin, Michelle and Marshall Andrews, Michael Shoemake, Teri and Josh McGhee, Jason Blair, Brandi and D.J. Maxey, Jeanette Samuel, Dalton Samuel, Jake and Tennille Hayes, John Hayes, and Neysa and Henry Cathy. Forty-six Great Nieces and Nephews, and 3 Great Great Nephews.

Services will be held Wednesday, March 8th, 2017, 2:00 P.M. at the Nazarine Church in Talihina, Oklahoma, with Bill Blair and Marshall Andrews officiating. Interment will follow at the New Talihina Cemetery.

Pall Bearers: Colton James, Jake Hayes, Michael Shoemake, John Hayes, Brandon Samuel, D.J. Maxey, Timothy Burgin, Jason Blair, Dustin Burgin, Josh McGhee, Chris Samuel and Jeremy Mathews.


|New Talihina Cemetery | |Leflore County Cemeteries| |Home|
---
This site may be freely linked, but not duplicated in any way without consent.
All rights reserved! Commercial use of material within this site is prohibited!
© 2000-2023 Oklahoma Cemeteries

The information on this site is provided free for the purpose of researching your genealogy. This material may be freely used by non-commercial entities, for your own research, as long as this message remains on all copied material. The information contained in this site may not be copied to any other site without written "snail-mail" permission. If you wish to have a copy of a donor's material, you must have their permission. All information found on these pages is under copyright of Oklahoma Cemeteries. This is to protect any and all information donated. The original submitter or source of the information will retain their copyright. Unless otherwise stated, any donated material is given to Oklahoma Cemeteries to make it available online. This material will always be available at no cost, it will always remain free to the researcher.