Oklahoma Cemeteries Website
Click here to break out of frames
This information is available for free. If you paid money for a
subscription to get to this site, demand a refund.
---
Welton "Son" Amerson
Oct 19, 1926 - Aug 23, 2010
Posted by: Sharon Ingle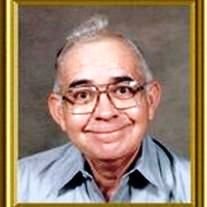 http://www.burkhartfuneralservice.com/
Welton "Son" Amerson, 83, of Talihina. , passed away Monday, August 23rd, 2010 at Eastern Oklahoma Medical Center, Poteau, Oklahoma.

Mr. Amerson was born in Webbers Falls, Oklahoma on October 19, 1926, the son of the late Fred and Lela (Gosvener) Amerson.

He was a member of Falfa Baptist Church where he enjoyed attending the services sitting on a special pew so he could feel the vibrations of the piano playing. In his younger years he loved hunting and fishing and always enjoyed working with his hands and woodworking. He enjoyed having a garden and working with his flowers he planted in the yard. He enjoyed potting flowers and plants. He had a very special talent taking care of his flowers.

He was preceded in death by his parents, grandparents, nephew; Joe Fitzgerald, brother-in-law; Loren Albright,.

He is survived by his sister; LuReba Albright of the home, aunts; Glennis Shoemake of Talihina, Florine Chappell of Gore, Oklahoma, numerous cousins.

Pallbearers for the service will be Raymond Fitzgerald, J.B. Fitzgerald, Harry Fitzgerald, Charles Fitzgerald, Eugene Pearce and Jerry Pearce.

Religious Service will be held at Falfa Baptist Church, Talihina, Oklahoma. at 2 p.m. on Wednesday, August 25th, with Rev. Carrol Fitzgerald officiating.
Interment will follow at the New Talihina Cemetery under the direction of Talihina Funeral Home.
|New Talihina Cemetery | |Leflore County Cemeteries| |Home|
---
This site may be freely linked, but not duplicated in any way without consent.
All rights reserved! Commercial use of material within this site is prohibited!
© 2000-2023 Oklahoma Cemeteries

The information on this site is provided free for the purpose of researching your genealogy. This material may be freely used by non-commercial entities, for your own research, as long as this message remains on all copied material. The information contained in this site may not be copied to any other site without written "snail-mail" permission. If you wish to have a copy of a donor's material, you must have their permission. All information found on these pages is under copyright of Oklahoma Cemeteries. This is to protect any and all information donated. The original submitter or source of the information will retain their copyright. Unless otherwise stated, any donated material is given to Oklahoma Cemeteries to make it available online. This material will always be available at no cost, it will always remain free to the researcher.