Oklahoma Cemeteries Website
Click here to break out of frames
This information is available for free. If you paid money for a
subscription to get to this site, demand a refund.
---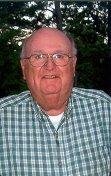 Howard Lee Raines
Fanshawe Cemetery
---
Howard Lee Raines, 72 of Fanshawe, passed away Oct. 30, 2008, at Eastern Oklahoma Medical Center, Poteau.
He was born Dec. 19, 1935, in Wagoner.
He was a veteran of the U.S. Army serving during the Korean Conflict. He was a member and evangelist of the Community Church of Christ and was retired from the Department of Human Services after 30 years.
He was preceded in death by his parents, Herbert Leland and Suvella Pearl (Jackson) Raines.
He is survived by his wife of 49 years, Janet Raines of the home; two sons and daughters-in-law, Russell and Danette Raines and Brett and Stefanie Raines, all of Fanshawe; a sister and brother-in-law Norma and Ed Woods of Tyler, Texas; nine grandchildren, Brandon and wife Shawna Raines of Panama, Dustin and wife Heather Raines of Poteau and Dennis and wife Shanna Raines of Poteau, Krystal Raines of Norman, Brittan Raines of Fanshawe, Hailey Raines of Fanshawe, Kacie Raines of Fanshawe, Jordan Barton of Fanshawe and Christopher Barton of Stigler; five great-grandchildren, Scimber Raines, Kennedee Raines, Preston Raines, Cayton Raines and Gunner Raines; numerous other relatives, friends and loved ones.
Funeral services will be conducted Saturday at 10 a.m. at Fanshawe School Auditorium with Greg and Sally McGowen officiating. Interment will be in Fanshawe Cemetery.
Pallbearers will be Brandon Raines, Dustin Raines, Dennis Raines, Wes McGowen, Christopher Barton, Bob Graham and Jordan Barton.
Flower girls will be Krystal, Kacie Brittan and Hailey Raines.
The family will be available for visitation at the funeral home Friday from 6 until 8 p.m.
Evans and Miller Funeral Home, Poteau, is in charge of arrangements.
You may leave an online message at evansandmillerfuneralhomes.com
Thank You For Your Service!
|Fanshawe Cemetery| |Home|
---
This page was updated: Sunday, 15-Apr-2018 13:05:22 CDT
This site may be freely linked, but not duplicated in any way without consent.
All rights reserved! Commercial use of material within this site is prohibited!
© 2000-2020 Oklahoma Cemeteries

The information on this site is provided free for the purpose of researching your genealogy. This material may be freely used by non-commercial entities, for your own research, as long as this message remains on all copied material. The information contained in this site may not be copied to any other site without written "snail-mail" permission. If you wish to have a copy of a donor's material, you must have their permission. All information found on these pages is under copyright of Oklahoma Cemeteries. This is to protect any and all information donated. The original submitter or source of the information will retain their copyright. Unless otherwise stated, any donated material is given to Oklahoma Cemeteries to make it available online. This material will always be available at no cost, it will always remain free to the researcher.