Oklahoma Cemeteries Website
Click here to break out of frames
This information is available for free. If you paid money for a
subscription to get to this site, demand a refund.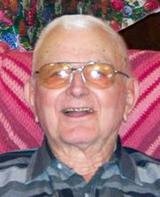 ---
Lesly Ernest WEHRENBERG
Enid News and Eagle
Garfield County OK
03-20-2913
Submitted by: Jo Aguirre
Lesly Ernest Wehrenberg, 90, lifelong resident of Loyal, Okla., passed away Monday, March 18, 2013, in Kingfisher, Okla. Some knew him as "Leck." Lesly was born Feb. 7, 1923, on the farm of Minnie and William Wehrenberg, northeast of Loyal. He was the youngest of nine children. He was a 1936 eighth grade graduate of Prairie Star Country School.

He married Lena Pope July 14, 1941, at the Christian Church in Chickasha, Okla. He farmed his entire life and was very proud of his chosen vocation. He was a faithful member of Loyal Evangelical Church, where he served in several capasities. He served on the school board at Loyal High School, Venable Cemetery Board, Sooner Co-op Board, Lomega Lions Club and Loyal Fire Department.
Lesly is survived by daughters, Karen Littlefield and husband Jeff and their family, and Cheryl Glazier and husband Tom and their family; daughter-in-Law, Janet Wehrenberg and family; and son, Edward Wehrenberg and wife Susie and their family.

Lesly was the last of his generation and was preceded in death by his parents, Minnie (Nuggats) and William Wehrenberg, six brothers, three sisters, an infant daughter, one son, Phil, and his wife of 71 years, Lena (Pope) Wehrenberg, who preceded him in death Jan. 15, 2013.

Funeral service will be 10 a.m. Saturday, March 23, 2013, at Loyal Evangelical Church, Loyal, Okla., with the Rev. Leon Seaton officiating.

Burial will follow in Venable Cemetery, northwest of Loyal. Arrangements are by Sanders Funeral Service Inc., Kingfisher.
|Venable Cemetery Page| |Kingfisher County Cemetery Page| |Home|
---
This site may be freely linked, but not duplicated in any way without consent.
All rights reserved! Commercial use of material within this site is prohibited!
© 2000-2023 Oklahoma Cemeteries

The information on this site is provided free for the purpose of researching your genealogy. This material may be freely used by non-commercial entities, for your own research, as long as this message remains on all copied material. The information contained in this site may not be copied to any other site without written "snail-mail" permission. If you wish to have a copy of a donor's material, you must have their permission. All information found on these pages is under copyright of Oklahoma Cemeteries. This is to protect any and all information donated. The original submitter or source of the information will retain their copyright. Unless otherwise stated, any donated material is given to Oklahoma Cemeteries to make it available online. This material will always be available at no cost, it will always remain free to the researcher.