Oklahoma Cemeteries Website
Click here to break out of frames
This information is available for free. If you paid money for a
subscription to get to this site, demand a refund.
---
Violet Minerva (Ricks) Crosswhite
Aug 7, 1933 - Dec 21, 2015
Submitted by: Jo Aguirre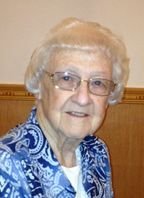 http://hennesseyclipper.com
Tue, Dec 22, 2015
Violet Minerva (Ricks) Crosswhite, age 82 of Piedmont passed away on Dec. 21, 2015 and went to be with her Lord and Savior, Jesus Christ in Heaven.

Visitation will be at the Sanders Funeral Home in Kingfisher Sat., Dec. 26th from 9am until 5pm, and Sun., Dec 27th from 1pm until 5pm.
Services are at 2 pm, Mon. December 28th at the First Christian Church of Hennessey.

She was born Aug. 7, 1933 in Hennessey, Oklahoma to Theodore A. and Bertha O. (Haymaker) Ricks. Violet was a devout Christian and loving mother. Her family was her greatest joy in life. She instilled her children with the love of the Lord and respect for others.

Violet graduated from Hennessey High School where she played the oboe in the band. She married Clyde E. Crosswhite on Sept. 5, 1951. Clyde and Violet made their homes in Florida, Illinois and Oklahoma. She made a comfortable, loving home for her family and friends. She enjoyed sewing, crocheting, embroidering and helping Clyde with the farms and was a great wheat hauler. Violet played piano for the congregation at Yukon Christian Church and traveled with the Yukon high School band as a band "mom."
In 1983 she was recognized by the Oklahoman and Times as a Golden Thimble awardee for outstanding sewing ability and community service. Later in life she worked and had fun at Conrad-Marr drug in Yukon. She also enjoyed her animal friends, Gidget, Shane, Tiger, Yorkie and DeeDee.

She was preceded in death by her parents, her sister, Eileen Grassmann and her grandchildren, Matthew and Justin Oney.

Violet is survived by her husband and best friend of 64 years, Clyde E. Crosswhite; son, Noel Crosswhite and his wife Lorna; daughters Brenda Collins and her husband Bobby, Glenda McDaniel and her husband Eldon, and Lisa Killingsworth. She is also survived by 12 loving grandchildren, 15 great grandchildren and numerous relatives and friends.
Violet gained tremendous strength and comfort from Philippians 4:13 "I can do everything through Him who gives me strength."
|Hennessey Cemetery| |Kingfisher County Cemetery| |Home|
This site may be freely linked, but not duplicated in any way without consent.
All rights reserved! Commercial use of material within this site is prohibited!
© 2000-2023 Oklahoma Cemeteries

The information on this site is provided free for the purpose of researching your genealogy. This material may be freely used by non-commercial entities, for your own research, as long as this message remains on all copied material. The information contained in this site may not be copied to any other site without written "snail-mail" permission. If you wish to have a copy of a donor's material, you must have their permission. All information found on these pages is under copyright of Oklahoma Cemeteries. This is to protect any and all information donated. The original submitter or source of the information will retain their copyright. Unless otherwise stated, any donated material is given to Oklahoma Cemeteries to make it available online. This material will always be available at no cost, it will always remain free to the researcher.