Oklahoma Cemeteries Website
Click here to break out of frames
This information is available for free. If you paid money for a
subscription to get to this site, demand a refund.
---
Clyde Eugene Crosswhite
Feb 7, 1929 - Oct 12, 2017
Submitted by: Jo Aguirre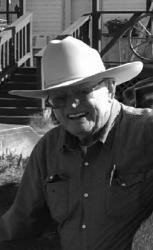 https://www.hennesseyclipper.com
Wed, 10/18/2017
Clyde Eugene Crosswhite, age 88, of Piedmont, Oklahoma passed away on October 12, 2017, while at home. He now lives with his Lord and Savior Jesus Christ in Heaven.
He was born February 7, 1929, in Dover, Oklahoma to Frank and Ethel Crosswhite. He was a devout Christian and a loving Husband and Father. He graduated from Dover High School and Oklahoma State University in Stillwater, Oklahoma. Clyde married the love of his life, Violet Minervia Ricks on September 5, 1951; and they made their homes in Florida, Illinois and Oklahoma. He served our great nation as a Military Police sergeant in the United States Air Force. He enjoyed a lot of hobbies including hunting, skeet shooting as an accomplished AA shooter winning many competitions, and flying model airplanes. His favorite hobby was flying. He was a pilot at heart and as the saying goes, "I'd rather be flying," it was truly his wishes to the very end. In 1982, he surpassed one (1) Million miles of safe flying. Clyde was enjoying his retirement and sharing it with his children and many friends. During his working years, he was employed at Aero Commander in Bethany, Oklahoma as a Technical Representative and ground school instructor; then he loved to Danville, Illinois where he flew for Hyster Company; then finally returned to Yukon, Oklahoma where he was a pilot for CR Anthony's Company. Upon retirement from flying, he was a great farmer and cattleman in Kingfisher County.
Clyde was preceded in death by his loving wife Violet, parents Frank and Ethel, brother Harold Crosswhite, and grandsons Matthew and Justin Oney.
He is survived by his son Noel Crosswhite and wife Lorna; daughters Brenda Collins and husband Bobby; Glenda McDaniel and husband Eldon; Lisa Bass and husband Charles; loving grandchildren and great grandchildren. He is also survived by his sister Betty Terrell and brother Dan Crosswhite and many other relatives and friends.
We will celebrate and honor Clyde's life with a Graveside Service on Monday, Oct. 16, 2017 at 2 p.m. at the Hennessey Cemetery.
A reception will follow at the Hennessey Senior Center at 3 p.m. "You only have to open your eyes to see the Hand of God."
Thank You For Your Service!
|Hennessey Cemetery| |Kingfisher County Cemetery| |Home|
---
This site may be freely linked, but not duplicated in any way without consent.
All rights reserved! Commercial use of material within this site is prohibited!
© 2000-2023 Oklahoma Cemeteries

The information on this site is provided free for the purpose of researching your genealogy. This material may be freely used by non-commercial entities, for your own research, as long as this message remains on all copied material. The information contained in this site may not be copied to any other site without written "snail-mail" permission. If you wish to have a copy of a donor's material, you must have their permission. All information found on these pages is under copyright of Oklahoma Cemeteries. This is to protect any and all information donated. The original submitter or source of the information will retain their copyright. Unless otherwise stated, any donated material is given to Oklahoma Cemeteries to make it available online. This material will always be available at no cost, it will always remain free to the researcher.