Oklahoma Cemeteries Website
Click here to break out of frames
This information is available for free. If you paid money for a
subscription to get to this site, demand a refund.
---
Cashion Cemetery,

Cashion, Kingfisher County, Oklahoma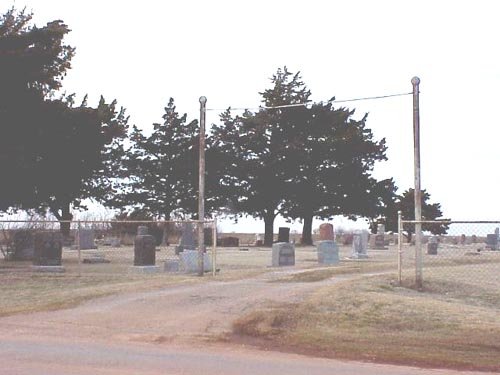 © John Lehr
E Surnames
A Work In Progress
Photographed, Submitted & © by Deb Zajic
SURNAME

FIRST MI Maiden

BIRTH

DEATH

OTHER

Eakins
Blanche J.
Sept. 25, 1905
Jan. 14, 1992
Eakins
Clarence D.
May 22, 1903
May 23, 1972
Eakins
John W.
July 19, 1914
Sept. 29, 1989
Eakins
Laura B.
Sept. 30, 1915
March 24, 1988
Eaton
Clifford Dean "Butch"
Oct. 26, 1951
April 9, 1996
Forever Yours
Eaton
Francene Benda
Oct. 4, 1954
Forever Yours
Married Feb. 12, 1971
Clifford Dean "Butch" Eaton
Eiklor
Bertha Blanche
Jan. 20, 1803
Dau. of E. H. & Alice Eiklor
Aged ?
Eiklor
Claude H.
March 29, 1996
Son of E. H. & Alice Eiklor
Aged 15y 10m 26d
Ellifritt
Viola
? Funeral Home Marker
Elling
Amelia B.
1881
1944
In Loving Remembrance
Elling
Bernard P.
1864
1950
In Loving Remembrance
Elling
Freda
Nov. 14, 1901
Feb. 9, 1904
Children of P. B. & A. Elling
Elling
Fredrick P.
Oct. 14, 1829
Sept. 13, 1912
Elling
Johanna
Sept. 3, 1837
Sept 23, 1919
Wife of Fredrick P. Elling
Elling
LeRoy E.
1910
Elling
Ruth L.
1918
1976
Wife of Leroy E. Elling
Elling
Inez
May 15, 1906
July 18, 1906
Children of P. B. & A. Elling
Eudy
Georgie E.
Aug. 4, 1931
Grandson
|Cashion Cemetery | |Kingfisher County Cemeteries| |Home|
---
This site may be freely linked, but not duplicated in any way without consent.
All rights reserved! Commercial use of material within this site is prohibited!
© 2000-2022 Oklahoma Cemeteries

The information on this site is provided free for the purpose of researching your genealogy. This material may be freely used by non-commercial entities, for your own research, as long as this message remains on all copied material. The information contained in this site may not be copied to any other site without written "snail-mail" permission. If you wish to have a copy of a donor's material, you must have their permission. All information found on these pages is under copyright of Oklahoma Cemeteries. This is to protect any and all information donated. The original submitter or source of the information will retain their copyright. Unless otherwise stated, any donated material is given to Oklahoma Cemeteries to make it available online. This material will always be available at no cost, it will always remain free to the researcher.