Oklahoma Cemeteries Website
Click here to break out of frames
This information is available for free. If you paid money for a
subscription to get to this site, demand a refund.
Clyde E. & Juanita Aileen Barker
Banner Cemetery Kingfisher County, Oklahoma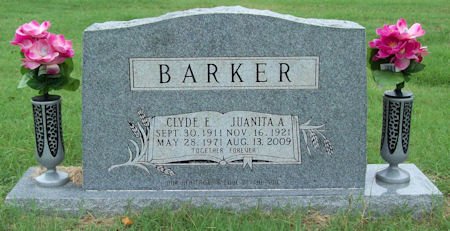 Submitted by Donna Crawford
http://www.abernathyaaron.com/

Juanita Aileen Barker Tharp, resident of Kingfisher passed away and entered into the presence of her Lord and Savior Jesus Christ on Thursday, August 13, 2009 at the Country Wood Manor in Kingfisher, OK. She was 87.

The funeral will be held 2:00 P.M. Saturday, August 15, 2009 at the First Baptist Church of Crescent with Rev. Steve Black officiating. Arrangements are under the direction of Abernathy Aaron Funeral Home, Crescent, OK.

Mrs. Tharp was born November 16, 1921 east of Dover to Cecil J. and Viola M. Horn. She graduated from Dover High School and married Clyde Edward Barker on June, 5, 1939. They made their home 9 miles east of Dover and she was a mother and homemaker until his death in May, 1971. She then owned and operated a fabric shop in Kingfisher for a couple of years. On November 23, 1973 she married Hawley Tharp at Central Baptist Church of Dover. During their life together they resided at Lake Texoma, Kingfisher and Crescent. He preceded her in death in July, 1999. The last several years she had been a resident of Country Wood Manor of Kingfisher, OK. Juanita was a very good cook and she loved to sew, quilt and do alterations for others and travel. She was a member of the First Baptist Church of Crescent.

She was preceded in death by her two husbands, parents, and three brothers, Buster, Leo and Cecil Dean Horn.

Survivors include, two sons, Jerry D. Barker and his wife Janet of Ponca City, OK, Scotty L. Barker and his wife Pam of Dover, OK, two daughters, Linda J. Wilson and her husband Layton of Broken Arrow, OK and LaVeta S. Cook and her husband Joe of Ninnekah, OK; 9 grandchildren and 13 great grandchildren. Also a step- daughter Linda Bugg of Crescent, 4 step-grandchildren and 8 step great grandchildren.

The family asks that memorial be made to the Kingfisher Regional Hospital or First Baptist Church of Crescent.


|Banner Cemetery A - M Index Page| |Kingfisher County Cemetery Page| |Home|







This site may be freely linked, but not duplicated in any way without consent.
All rights reserved! Commercial use of material within this site is prohibited!
© 2000-2023 Oklahoma Cemeteries

The information on this site is provided free for the purpose of researching your genealogy. This material may be freely used by non-commercial entities, for your own research, as long as this message remains on all copied material. The information contained in this site may not be copied to any other site without written "snail-mail" permission. If you wish to have a copy of a donor's material, you must have their permission. All information found on these pages is under copyright of Oklahoma Cemeteries. This is to protect any and all information donated. The original submitter or source of the information will retain their copyright. Unless otherwise stated, any donated material is given to Oklahoma Cemeteries to make it available online. This material will always be available at no cost, it will always remain free to the researcher.