E. Eugene Gene Sullivan, longtime resident of Ponca City, passed away on Friday, March 20, 2009 at St. Francis Hospital in Wichita. He was 86.
Gene was born the son of John Woody Sullivan and Mariah Adeline Baker Sullivan on June 3, 1922 in Darwin, Oklahoma. He grew up in Darwin and attended high school in Atoka until he enlisted in the United States Army on November 21, 1942. Gene landed in Normandy 6 days after D-Day and participated in the Battles, Normandy, Northern France, the Ardennes and Rhineland. Gene was awarded the Purple Heart in the Ardennes, the Battle of the Bulge and received the European Campaign Medal with 4 Bronze Stars as well as the Good Conduct Medal. Gene proudly served his country during WWII until his honorable discharge in 1945. His grandsons will have the honor of presenting the flag. Gene married Irene Layne on November 8, 1945 at Oil Center Church just outside of Ada, Oklahoma and to this union, two children were born.
In 1956, the couple moved to Ponca City, Oklahoma where Gene was a professional truck driver. He started driving trucks in 1956 and during his 30 year career he logged over 1.5 million miles. Gene drove many types of tanks: LPG, anhydrous ammonia, casinghead and refined. He started driving in 1970 for contractors Ike and Marlin Glass of Newkirk, Oklahoma. Gene was honored as Oklahoma Driver of the Month in 1971 and then selected for April 1984 Driver of the Month by the Kansas Motor Carriers Association. Throughout his whole career, he was involved in only one accident which was determined to be non-preventable. He joined the elite club of Million Milers by driving one million accumulative miles without a chargeable accident. Gene loved camping, fishing and playing the guitar and harmonica. He also enjoyed working word puzzles, picking pecans and walking at Wal-Mart. Gene was a lifelong member of the Disabled American Veterans and former member of the American Legion. He was also a member of Sunset Baptist Church since 1980. He loved spending time with his family, especially his grandchildren. He was a loving husband, father and grandfather whose priorities were God, wife and family and he will be missed.
He is survived by his loving wife, Irene of 63 years; children, Regena Lewis and husband, Robert of Ponca City, Oklahoma and Dean Sullivan and wife, Cynthia of Buena Vista, Colorado; sisters, Marie Powell of Joplin, Missouri and June Johnson of Seminole, Oklahoma; grandchildren, John Sullivan and wife, Michelle, Jeremy Sullivan and wife, Kelley, Billy Struble, Amy Sullivan and Teara Lewis; great grandchildren, Brandon Arnold, Amanda Sullivan, Hannah Sullivan, Isabel Sullivan, Hayden Sullivan and Fade Lewis; sister in laws, Elderene Arnold of Ulyss, Texas, Anabelle Layne of South Carolina and Minnie Layne of Rock Port, Texas; as well as numerous nieces and nephews.
He is preceded in death by his parents; sisters, Lola Brown, Mable Vickery, Ina Kilgore, Edna Sullivan, Elva Powell and Jewell Boydston; and brothers, Earl Sullivan and J.W. Sullivan.
Casket bearers for the service will be Bill Finley, Brad Finley, David Powell, Michael Arnold, Rodney Arnold and Ricky Arnold.
Honorary casket bearers are his grandchildren, John Sullivan, Jeremy Sullivan, Billy Struble, Amy Sullivan, Teara Lewis and Brandon Arnold.
The funeral service will be held at 2:00 p.m., Wednesday, March 25, 2009 at Sunset Baptist Church with Reverend Dr. Daniel Clark officiating. Interment will follow at Resthaven Memorial Park Cemetery under the direction of Grace Memorial Chapel.
In lieu of flowers, memorial contributions can be made in Genes honor to the Amen Class of Sunset Baptist Church, 915 Greenwood, Ponca City, Oklahoma 74601.
---
Irene Layne Sullivan
© Grace Memorial Chapel
09-2020
Submitted by: Glenn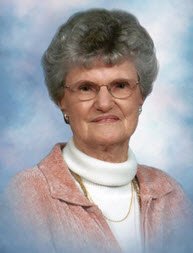 © Grace Memorial Chapel
September 28, 1923 ~ September 15, 2020

Irene Sullivan, 96, beloved Mother, Grandmother, was called to her eternal resting place on September 15, 2020. She entered this world on September 28, 1923, in Farris, Oklahoma, born to George H. and Amanda L. Palmer Layne.

Funeral services will be held 2:00 p.m. Monday, September 21, 2020, in the Sunset Baptist Church with Pastor Matt Brown officiating. Interment will follow in the Resthaven Memorial Park cemetery under the care of Grace Memorial Chapel of Ponca City. Visitation will be Sunday, September 20, 2020, from 1 p.m. to 5 p.m. at Grace Memorial Chapel.

Irene married the love of her life on November 8, 1945, in Ada, Oklahoma, and they moved to Ponca City in October 1956. She was a longtime member of Sunset Baptist Church. She worked for the Ponca City Police Dept as Court Clerk for 17 years retiring in 1986. Irene enjoyed spending time with her family, gardening and working in her yard until she was 96 years of age.

Those left behind to cherish her memory are her daughter Regena Lewis and husband Robert of Ponca City, OK, Son; Dean Sullivan and wife Cynthia of Colorado Springs, CO Five grandchildren; John Sullivan and wife Michelle, Jeremy Sullivan and wife Kellie, Amy Modin and husband Darren, Billy Struble and wife Hyunju, and Teara Lewis. Great grandchildren; Brandon Arnold and wife Erinn, Amanda Sullivan, Isabel Sullivan, Hannah Sullivan, Haydon Sullivan, Hadley Sullivan, Hope Sullivan, Fade Foreman and Liyah Struble. Also surviving are several nieces and nephews.

Irene was preceded in death by her Parents, husband Gene of 63 years, four brothers and 3 sisters.

Online guest registry is available at www.gracememorialchapel.net

|Resthaven Cemetery| |Kay County Cemetery Page| |Home|


---




This page was updated: Saturday, 24-Oct-2020 12:23:16 CDT
This site may be freely linked, but not duplicated in any way without consent.
All rights reserved! Commercial use of material within this site is prohibited!
© 2000-2021 Oklahoma Cemeteries

The information on this site is provided free for the purpose of researching your genealogy. This material may be freely used by non-commercial entities, for your own research, as long as this message remains on all copied material. The information contained in this site may not be copied to any other site without written "snail-mail" permission. If you wish to have a copy of a donor's material, you must have their permission. All information found on these pages is under copyright of Oklahoma Cemeteries. This is to protect any and all information donated. The original submitter or source of the information will retain their copyright. Unless otherwise stated, any donated material is given to Oklahoma Cemeteries to make it available online. This material will always be available at no cost, it will always remain free to the researcher.