Oklahoma Cemeteries Website
Click here to break out of frames
This information is available for free. If you paid money for a
subscription to get to this site, demand a refund.
---
Raymond L. "Ray" & Alene (Brown) Coltrane
Sunset Memorial Park Cemetery
Cemetery Photo
Norman, Cleveland County, Oklahoma
Obit for Alene posted by Janet Laubhan Flickinger
Sep 27, 1924 - Jan 24, 2017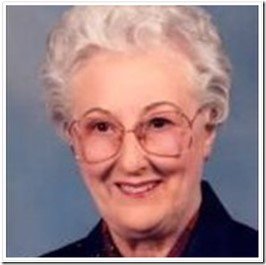 http://www.havenbrookfuneralhome.com/
Alene Coltrane, of Norman, Oklahoma, passed away on January 24, 2017 at the age of 92.

Alene was born in Meg, Arkansas to Clarence and Verla Brown on September 27, 1924. She was the oldest of 8 siblings.

Alene married Ray Coltrane, the love of her life, on September 3, 1948. They were blessed with two wonderful children Raymond Coltrane, Jr. and Linda Coltrane Lankister. Ray and Alene moved to Norman from Chickasha in 1977 so they could be closer to their children.

She retired from Southwestern Bell Telephone Company in March 1977 after 33 years of service. Many of those years were with perfect attendance. She was a long distance telephone operator. She was a member of the AT&T Pioneers. She was also a member of McFarlin Memorial United Methodist Church. She was an avid quilter. She quilted over 200 quilts. She hand pieced and hand quilted every quilt she made. She made sure each of her brothers and sisters had one of her quilts. She loved to travel. She loved flying to the many places she had been to. She loved spending time with family and friends. She loved to watch Wheel of Fortune.

Preceded in death by her parents, husband Ray Coltrane, son Raymond, Jr., three sisters and one brother.

Survived by her daughter Linda Coltrane Lankister of Norman, grandson Marty Coltrane from Norman, resident of OKC, sister Juanita and husband Charles, brother Paul and wife Paula, brother Glen and wife Diana, and several nieces and nephews.

Alene's family would like to thank Good Shepherd Hospice for the many hours they spent with them and to give special thanks to Carol and Robbie for their loving care.

Visitation will be 9:00 am-8:00 pm Thursday, January 26, 2017 at Havenbrook Funeral Home. Family will receive friends from 6:00 pm-7:00 pm.
Graveside services will be 10:00 am Friday, January 27, 2017 at Sunset Memorial Park Cemetery in Norman, OK.
|Sunset Memorial Park Cemetery Page| |Cleveland County Cemetery Page| |Home|
---
This page was updated: Tuesday, 19-Sep-2017 07:39:05 CDT
This site may be freely linked, but not duplicated in any way without consent.
All rights reserved! Commercial use of material within this site is prohibited!
© 2000-2021 Oklahoma Cemeteries

The information on this site is provided free for the purpose of researching your genealogy. This material may be freely used by non-commercial entities, for your own research, as long as this message remains on all copied material. The information contained in this site may not be copied to any other site without written "snail-mail" permission. If you wish to have a copy of a donor's material, you must have their permission. All information found on these pages is under copyright of Oklahoma Cemeteries. This is to protect any and all information donated. The original submitter or source of the information will retain their copyright. Unless otherwise stated, any donated material is given to Oklahoma Cemeteries to make it available online. This material will always be available at no cost, it will always remain free to the researcher.