Oklahoma Cemeteries Website
Click here to break out of frames
This information is available for free. If you paid money for a
subscription to get to this site, demand a refund.
---
Charles Danny Crowder
May 7, 1939 - Mar 25, 2017
Posted by Janet Laubhan Flickinger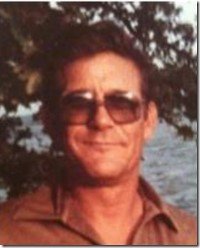 http://www.havenbrookfuneralhome.com/
Charles Danny Crowder, age 77, passed away Saturday March 25, 2017 in Tecumseh, OK with family and friends by his side. A graveside service will be 1:00 p.m. Thursday at Sunset Memorial Park Norman, OK.

Charles was born May 07, 1939 in Carney, OK to the late Ira Clemens and Opal (Williams) Crowder. He attended and graduated from Carney High School in 1958. He worked as a professional butcher in Perkins and Oklahoma City, OK and retired from Harris Packing Company. Charles was a devoted husband and father who loved to visit with family and friends; he was a great history buff who enjoyed collecting World War II movies and books.

Charles was preceded in death by his parents, brothers Don, Eugene, sister Erline Crowder, daughter Cheryl Ann, son Charles Wayne Crowder, their mother and previous wife Retha (Butler) White.
He is survived by his wife Glenda (Moore-Haynes) Crowder, daughters Kathy and spouse Shahram Hafezi Motlagh of Panama City Beach, FL, Deanna Sloan of Norman, sons Johnie Haynes of Norman, Steve Haynes of Oklahoma City, OK, his extended family Bruce Sloan, Sherri and Sam Hunt of Norman OK. Charles took great pride in his grandchildren; Jamey and Benji Henry, Luke and Matthew Sloan, Joey, Stephanie and Sean Haynes, Shawnie and Shane Hunt, and Brian Humphries. He's survived by sister-in-laws Phyllis Shobert, Rhonda Cleveland, brother –in-law Jim Cleveland, also by many nieces and nephews.

The family would like to express special thanks to Sunset Estates Nursing Center and Angelic Family Hospice.
|Sunset Memorial Park Cemetery| |Cleveland County Cemeteries| |Home|
This page was updated: Tuesday, 18-Apr-2017 07:40:30 CDT
This site may be freely linked, but not duplicated in any way without consent.
All rights reserved! Commercial use of material within this site is prohibited!
© 2000-2021 Oklahoma Cemeteries

The information on this site is provided free for the purpose of researching your genealogy. This material may be freely used by non-commercial entities, for your own research, as long as this message remains on all copied material. The information contained in this site may not be copied to any other site without written "snail-mail" permission. If you wish to have a copy of a donor's material, you must have their permission. All information found on these pages is under copyright of Oklahoma Cemeteries. This is to protect any and all information donated. The original submitter or source of the information will retain their copyright. Unless otherwise stated, any donated material is given to Oklahoma Cemeteries to make it available online. This material will always be available at no cost, it will always remain free to the researcher.