Oklahoma Cemeteries Website
Click here to break out of frames
This information is available for free. If you paid money for a
subscription to get to this site, demand a refund.
---
Earl Eugene Butts
Oct 11, 1945 - Jan 24, 2015
Posted by Janet Laubhan Flickinger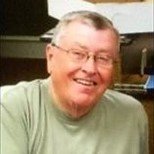 http://www.havenbrookfuneralhome.com/
Earl Eugene Butts, 69, of Norman, passed from this life on January 24, 2015. He was born on October 11, 1945 in Weslaco, TX to Earl and Cordia (Dougherty) Butts.

Earl entered into the US Navy on October 21, 1965. He went to the US Naval Air Station Corps school in San Diego, CA for Corpsman Training, finishing out in HT-8 Alf Ellyson, Pensacola, FL on October 20, 1967. He married the love of his life, Judy Ann Miller, on October 27, 1967 at First Christian Church of Norman and together they shared 47 wonderful years of marriage and 2 sons.
Earl worked 23 years at Wilson Foods as an industrial engineer, 8 years at United Design-overseeing Health and Safety, and 8 years at Insurica Insurance as a claims adjuster.

He was preceded in death by his father, Earl Witt Butts, Jr. and his Search and Rescue dogs whom he loved dearly, Abbe and Sadie.

Survivors include his mother, Cordia M. Butts; wife of 47 years, Judith Ann Butts; sons, Stephen Butts and wife Kelly and their children, Chris and Kaylea; and Michael Butts and wife Stacy and their children, Matt, Hailee and Bryce; and brother, Richard Butts and wife Janet and their children Zach and Madison.

Visitation will begin Monday, January 26, 2015 at 4pm with family receiving friends from 6-8pm at Havenbrook Funeral Home. Services for Earl are 2:00PM, Tuesday, January 27, 2015 at Havenbrook Funeral Home Chapel.
Thank You For Your Service!
|Sunset Memorial Park Cemetery| |Cleveland County Cemeteries| |Home|
This page was updated: Tuesday, 18-Apr-2017 07:40:28 CDT
This site may be freely linked, but not duplicated in any way without consent.
All rights reserved! Commercial use of material within this site is prohibited!
© 2000-2021 Oklahoma Cemeteries

The information on this site is provided free for the purpose of researching your genealogy. This material may be freely used by non-commercial entities, for your own research, as long as this message remains on all copied material. The information contained in this site may not be copied to any other site without written "snail-mail" permission. If you wish to have a copy of a donor's material, you must have their permission. All information found on these pages is under copyright of Oklahoma Cemeteries. This is to protect any and all information donated. The original submitter or source of the information will retain their copyright. Unless otherwise stated, any donated material is given to Oklahoma Cemeteries to make it available online. This material will always be available at no cost, it will always remain free to the researcher.