Oklahoma Cemeteries Website
Click here to break out of frames
This information is available for free. If you paid money for a
subscription to get to this site, demand a refund.
---
Rev. Dr. Cecil Dene Brown
Dec 26, 1935 - Jan 29, 2007
Posted by Dale Talkington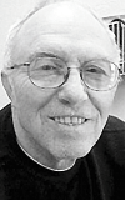 Saturday, 7 April 2007
Rev. Dr. C. Dene Brown
Rev. Dr. C. Dene Brown entered Eternal Life after a long illness on January 29, 2007.
He was born on December 26, 1935 in Anadarko, OK. He grew up in Anadarko and there found his love of music, of sports, and of family. He graduated from Anadarko High School in 1954.
After graduation, he joined the air force and served in the military for 20 years.
During his travels, he met and married Susan Jane Jernigan and during their 49-year marriage they had three children.
Always a lover of knowledge, Dene went to several universities and during his life obtained a Doctorate in Education from the University of Oklahoma, a Masters in Clinical Counseling from the University of Oklahoma, and probably most proud, a Masters in Divinity from Duke University.
While young, Dene gave his life to Christ and felt a calling for ministry. He served as a United Methodist minister for 40 years. He spent the bulk of his ministry at various churches in the Oklahoma United Methodist Conference.
He loved helping others to grow in their walk with Christ. He spent countless hours counseling others, visiting those who needed attention, and spreading the Word of Christ wherever he went.
He also had a genuine passion for OU football.
He is preceded in death by his precious grandmother, Florence Hilburn and his grandfather, Lonnie Hilburn and also by his mother and father, Pauline and Bert Temple.
He is survived by his wife of 49 years, Susan; his three children, Barry, Joel and his wife, Michelle, and Holli; his grandchildren, Kyle, Alec, Wyatt and Ryan; his identical twin brother, Gene and his wife Grace; his sister, Janet; his brother Bert Euell and his wife Barbara; his beloved aunt and uncle, Andy and Evelyn Allen; and a brother-in-law Doug Jernigan and his wife, Lynna, as well as various nieces, nephews, cousins, and many beloved friends.
Until we meet again, he will be surely missed. We love you, dad, and hapa!
There will be visitation on Friday, February 2, 2007 from 9:00 a.m. - 2:00 p.m. at the funeral home.
The family will also have visitation and receive visitors from 4:00 p.m.-7:00 p.m. on Friday at the First United Methodist Church of Moore, 201 West Main, Moore, OK.
The celebration of his life will be on Sat., Feb. 3, 2007 at 11:00 a.m. at First United Methodist Church of Moore, with interment following at Sunset Memorial Park in Norman, OK.
SMITH & KERNKE FUNERAL HOME, 1401 NW 23rd ST.
Thank You For Your Service!
|Sunset Memorial Park Cemetery| |Cleveland County Cemeteries| |Home|
This page was updated: Monday, 22-Jan-2018 10:09:02 CST
This site may be freely linked, but not duplicated in any way without consent.
All rights reserved! Commercial use of material within this site is prohibited!
© 2000-2021 Oklahoma Cemeteries

The information on this site is provided free for the purpose of researching your genealogy. This material may be freely used by non-commercial entities, for your own research, as long as this message remains on all copied material. The information contained in this site may not be copied to any other site without written "snail-mail" permission. If you wish to have a copy of a donor's material, you must have their permission. All information found on these pages is under copyright of Oklahoma Cemeteries. This is to protect any and all information donated. The original submitter or source of the information will retain their copyright. Unless otherwise stated, any donated material is given to Oklahoma Cemeteries to make it available online. This material will always be available at no cost, it will always remain free to the researcher.