Oklahoma Cemeteries Website
Click here to break out of frames
This information is available for free. If you paid money for a
subscription to get to this site, demand a refund.
---
Joe Mike Allen
Nov 21,1944 - Jan 30, 2013
Posted by Janet Laubhan Flickinger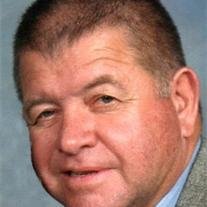 http://www.havenbrookfuneralhome.com/tributes/Joe-Allen
Joe Mike Allen, 68, died Wed., Jan. 30, 2013 in Norman, OK.
He was born in Shawnee, OK to Ruby Lee and John Allen. When he was in elementary school his family moved from Shawnee to Moore, OK. Joe Mike graduated in 1964 from Moore High School where he had been active in Future Farmers of America and played on the football team. He later attended Murray State where he received a football scholarship. In 1974, Joe Mike married Betty Jane Brandon, his childhood friend.

In addition to special times spent with his family, Joe Mike enjoyed fishing, working on his farm, drag racing, making friends and doing whatever he could to help others. In his younger days he competed nationally in drag racing with both funny cars and dragsters. Cars, trucks, and collecting tractors turned into his life-long hobby.

Joe Mike was never afraid of hard work. His first job at 13 was working his family farm. Joe went on to start Allen Propane Gas Service, his first taste of being an entrepreneur. After marrying Betty, he decided to try the dairy farming business. Wisely, Joe learned he could make a better living by planting sod over the old dairy farm. So in the late 1980s Joe founded Allen Farms which he grew from a small retail outlet to a huge commercial operation. He installed miles of sod across Oklahoma, making many friends along the way. Other career accomplishments included owning a 350-acre onion farm in South Texas' Rio Grande Valley and bringing the first mechanical onion harvester to the region. Across 2,000 Oklahoma acres, Joe had a cow-calf operation, selling calves at the Oklahoma City Stockyards cattle market.

Joe was a member of Oklahoma Sod Producers, Oklahoma Cattleman's Association, First Baptist Church of Norman and a former Goldsby city board member. He was most proud of his family receiving the Cleveland County Farm Family of the Year award in 1984.

Joe Mike was preceded in death by his parents.
He is survived by his wife, Betty of Norman, OK; his children, Shyla Slay and husband John of Oklahoma City, Michael Williams of Stillwater, OK, Mitch Allen of Las Vegas, NV; and his brother, Pete Allen of Moore. He dearly loved his grandchildren Taylyr Williams, Amee Williams, Jason Radomski, Jack Slay, Caroline Slay and great-granddaughter, Makyna Williams. Other survivors include his niece Debbie Hasser and her husband Dale of Moore, OK; and an amazing group of employees he considered family.

The Allen family will greet friends from 7:00 p.m. – 9:00 p.m., Friday, February 1, 2013 at Havenbrook Funeral Home.

Memorial services will be held 2:00 p.m., Saturday, February 2, 2013 at the First Baptist Church, 211 W. Comanche in Norman.

Memorial contributions may be made to First Baptist "Ignite" Building Campaign, 211 W. Comanche, Norman, Oklahoma 73069. Arrangements for Joe and his family were placed in the care of the Vice Family at Havenbrook Funeral Home.
Online condolences may be shared at www.havenbrookfuneral home.com
|Sunset Memorial Park Cemetery| |Cleveland County Cemeteries| |Home|
This page was updated: Sunday, 07-Jan-2018 12:30:13 CST
This site may be freely linked, but not duplicated in any way without consent.
All rights reserved! Commercial use of material within this site is prohibited!
© 2000-2021 Oklahoma Cemeteries

The information on this site is provided free for the purpose of researching your genealogy. This material may be freely used by non-commercial entities, for your own research, as long as this message remains on all copied material. The information contained in this site may not be copied to any other site without written "snail-mail" permission. If you wish to have a copy of a donor's material, you must have their permission. All information found on these pages is under copyright of Oklahoma Cemeteries. This is to protect any and all information donated. The original submitter or source of the information will retain their copyright. Unless otherwise stated, any donated material is given to Oklahoma Cemeteries to make it available online. This material will always be available at no cost, it will always remain free to the researcher.