Oklahoma Cemeteries Website
Click here to break out of frames
This information is available for free. If you paid money for a
subscription to get to this site, demand a refund.
---
Homer G. & Joyce Stacey (McCoy) Hetherington
St. Joseph's Catholic Cemetery
Cemetery Photo
Cleveland County, Oklahoma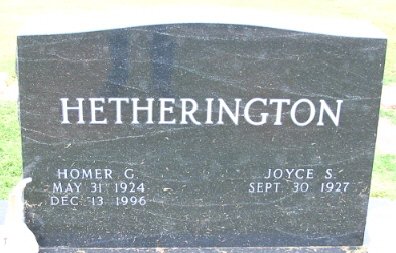 above photo © Jim Woodruff


Front


Back
2 above photos © Patti G
Obit for Joyce posted by Janet Laubhan Flickinger
Sep 30, 1927 - Feb 4, 2011
http://www.havenbrookfuneralhome.com/
Hetherington, Joyce Stacey, 83, passed away Friday, February 4, 2011 in Oklahoma City, Oklahoma. She was born September 30, 1927in Oklahoma City to James and Annie (Pyle) McCoy.

Joyce was an electronics technician for 27 years retiring in 1992. She was a member of St. Joseph Catholic Church for over 20 years. Joyce enjoyed traveling with her family and searching her family genealogy.

Joyce is survived by three daughters, Judy Jackson and husband Mike of OKC, Rita Gillham and husband Phillip of Cameron, Oklahoma and Teresa Pastrano and husband Ruben of Tempe, AZ; one sister, Nancy Sneed of Idaho Falls, ID; grandchildren, Thomas Gillham and wife Pat and Erick Gillham and wife Bobbi both of Poteau, OK, Chris Jackson and Stanley Slater both of Yukon, Lauren Jackson of OKC and Jamie Quinlan of Gilbert, AZ; two great grandchildren, Timothy Gillham and Parker Jackson; and two step great grandchildren, Olivia Howerton and Vivian Howerton.
She is preceded in death by her parents; her husband of 49 years, Homer Hetherington; her husband of 5 years, Olie Valliere; and two sons, Stephen and James Hetherington.
Thank You For Your Service!
|St. Joseph's Catholic Cemetery| |Cleveland County Cemetery Page| |Home|
---
This page was updated: Monday, 17-Jul-2017 17:34:36 CDT
This site may be freely linked, but not duplicated in any way without consent.
All rights reserved! Commercial use of material within this site is prohibited!
© 2000-2021 Oklahoma Cemeteries

The information on this site is provided free for the purpose of researching your genealogy. This material may be freely used by non-commercial entities, for your own research, as long as this message remains on all copied material. The information contained in this site may not be copied to any other site without written "snail-mail" permission. If you wish to have a copy of a donor's material, you must have their permission. All information found on these pages is under copyright of Oklahoma Cemeteries. This is to protect any and all information donated. The original submitter or source of the information will retain their copyright. Unless otherwise stated, any donated material is given to Oklahoma Cemeteries to make it available online. This material will always be available at no cost, it will always remain free to the researcher.