Oklahoma Cemeteries Website
Click here to break out of frames
---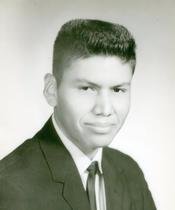 Courtesy of Prater-Lampton-Mills & Coffey Funeral Home
Funeral services for Richard Don Colbert fondly known as "Bear" will be held on Friday, June 15, 2012, at 10:00 a.m. at the Prater-Lampton-Mills & Coffey Funeral Home Chapel in Hugo, OK with Bro. R.V. Colbert officiating and burial following in the Soper Cemetery in Soper, OK. Richard went home to be with our Lord, Jesus Christ and Heavenly Father, Monday, June 11, 2012, in Oklahoma City, Oklahoma, at the age of 66.
Richard was born on January 16, 1946, in Talihina, OK, the son of Frank and Dorothy (Billey) Colbert. He married Rita Deemer on February 16, 1973 in Hugo, OK. Richard grew up in Soper, OK and graduated from Soper High School in 1964. He served his country in the United States Air Force. Richard worked as a superintendent and a bridge builder for over forty years. Honesty and integrity were the hallmarks of this wonderful man.
Richard was preceded in death by his parents; sister, Esterline James and brother, Ben Colbert Sr.
Richard is survived by his wife, Rita of the home; sons, Christopher Colbert and wife, Corinne and Frank Colbert and wife, January all of Mustang, OK; six beautiful grandchildren, Andrew Colbert, Richard Mason Colbert, Trenton Colbert, Courtlynn Colbert, Laurel Newsom and Darran Newsom, and they were the lights of his life, all of whom he was so very proud; brothers, R.V. Colbert and Andrew Colbert; sister, Freda Colbert and extended family.
The family will receive friends Thursday, May 14, 2012, from 6:00 p.m. to 7:00 p.m. in the Prater-Lampton-Mills & Coffey Chapel in Hugo, OK.
|Soper Cemetery Page| |Choctaw County Cemetery Page| |Home|
---
This site may be freely linked, but not duplicated
in any way without consent.
© for the Oklahoma Cemeteries Website
The copyright (s) on this page must appear on all
copied and/or printed material.
All rights reserved! Commercial use of material within this site is prohibited!