Oklahoma Cemeteries Website
Click here to break out of frames
This information is available for free. If you paid money for a
subscription to get to this site, demand a refund.
---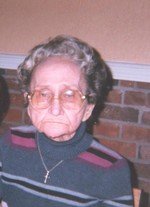 Courtesy of Prater-Lampton-Mills & Coffey
Ethelene "Shorty"¯ Hyletha Pharis, 81, of Hugo, OK died Tuesday, January 20. She was born February 11, 1927, in Hugo, OK, to Willie Shorty McClellan and Eunice Gray McGhee McClellan. She had lived in this area all of her life and was a homemaker.

Ethelene married Walter "Bugs"¯ Poke Pharis on March 20, 1947 in Hugo, OK. She and Bugs operated the Southeastern Produce Co. Ethelene enjoyed her family, friends and especially going out to eat.

Ethelene was preceded in death by her husband: Walter of 42 years in 1989; special father: Leslie McGhee; her parents; one daughter: Hyletha McGhee Webber; one sister: Freda Choat and one brother: Don Austin McGhee.

She is survived by one son: Walter Pharis of Sawyer, OK; one daughter, Barbara "Bobbie"¯ Stone of Hugo, OK; 5 grandchildren: Jeff, Bo, Samantha, LaShell and Patricia; 12 great-grandchildren and 2 great-great grandchildren. Shorty also raised her granddaughter, Karen Sue Dees and one great grandson, Nathan Randall Bennett.

A celebration of Ethelene's life will be held Friday, January 23, 2009, at 2:00 p.m. at the Prater-Lampton-Mills & Coffey Funeral Home Chapel with Rev. Charles Green and Brother Mutt Wallace officiating.

Burial will follow at the Shoat Springs Cemetery.
|Shoat Springs Cemetery Page| |Choctaw County Cemetery Page| |Home|
---
This site may be freely linked, but not duplicated in any way without consent.
All rights reserved! Commercial use of material within this site is prohibited!
© 2000-2023 Oklahoma Cemeteries

The information on this site is provided free for the purpose of researching your genealogy. This material may be freely used by non-commercial entities, for your own research, as long as this message remains on all copied material. The information contained in this site may not be copied to any other site without written "snail-mail" permission. If you wish to have a copy of a donor's material, you must have their permission. All information found on these pages is under copyright of Oklahoma Cemeteries. This is to protect any and all information donated. The original submitter or source of the information will retain their copyright. Unless otherwise stated, any donated material is given to Oklahoma Cemeteries to make it available online. This material will always be available at no cost, it will always remain free to the researcher.