Oklahoma Cemeteries Website
Click here to break out of frames
This information is available for free. If you paid money for a
subscription to get to this site, demand a refund.
---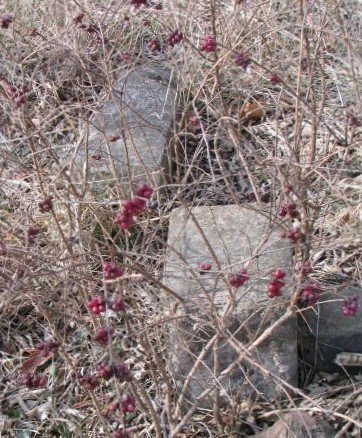 Greasy Cemetery
aka Weaver Cemetery
Adair County
This small family cemetery is located in a pasture across the street from the South Greasy Church, just over the fence to the west from the trailer house. There was only two headstone left with several field stones to mark other graves.

This cemetery has been abandoned to progress and the elements.

If you have family buried here and would like to have their information or additional information (Obituaries, Photos, Short Bio, Cemetery Photos) placed on our site please contact the Area Coordinator for details or visit our How To Submit page.

We are dedicated and strive for our records to be complete and accurate. As with all Genealogy work there comes a possibility for spelling or data errors with the information that we have received. Please let us know if you have found any such error.

SURNAME

FIRST MI

BIRTH

DEATH

OTHER

Weaver
Sam
May 1, 1857
December 27, 1904
"Gone to Rest".
photo
Wevil
Toskeda
unknown
unknown
Aged 3 years
photo
|Adair County Cemeteries |Home|
---
This site may be freely linked, but not duplicated in any way without consent.
All rights reserved! Commercial use of material within this site is prohibited!
© 2000-2023 Oklahoma Cemeteries

The information on this site is provided free for the purpose of researching your genealogy. This material may be freely used by non-commercial entities, for your own research, as long as this message remains on all copied material. The information contained in this site may not be copied to any other site without written "snail-mail" permission. If you wish to have a copy of a donor's material, you must have their permission. All information found on these pages is under copyright of Oklahoma Cemeteries. This is to protect any and all information donated. The original submitter or source of the information will retain their copyright. Unless otherwise stated, any donated material is given to Oklahoma Cemeteries to make it available online. This material will always be available at no cost, it will always remain free to the researcher.