Oklahoma Cemeteries Website
Click here to break out of frames
This information is available for free. If you paid money for a
subscription to get to this site, demand a refund.
---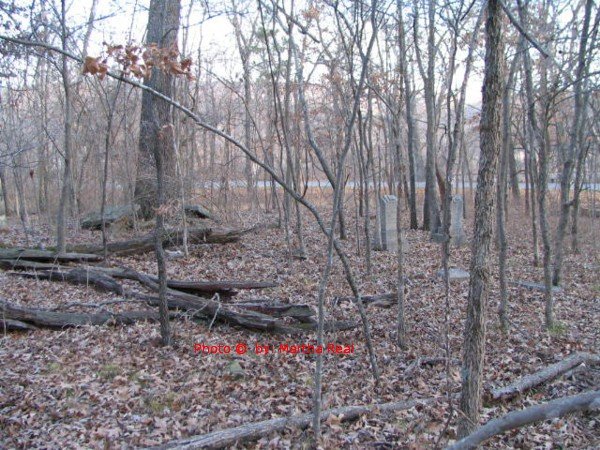 © Martha Real
Cave Springs Community Cemetery
Scott Cemetery
Adair County, Oklahoma
© 2006 Martha Jones-McGinnis-Real
Location: Thanks to Jason Shook and his mother, Jonell Ramey, for sharing information about this cemetery. Jason hopes that family of the people buried here will see these pictures, and come clean, and restore this cemetery. It hurts all of us when we see forgotten cemeteries like this. By taking photographs and getting them on this web site, they are not forgotten.
This small cemetery is located about 1/8 mile south of Cave Springs School on your right in the woods just off the road.
This is an old cemetery. It is overgrown with large trees. The two unknown tombs have a large oak tree growing in the middle. Judging from the size of the tree, they would have been among the first people buried here.

There are about two dozen graves there with only ten headstones left, most headstones are marked with a footstone. There are a lot of field rock to mark other graves. There was a survey completed in 1997. It lists the same stones as listed here.


If you have family buried here and would like to have their information or additional information (Obituaries, Photos, Short Bio, Cemetery Photos) placed on our site please contact the Area Coordinator for details or visit our How To Submit page.

We are dedicated and strive for our records to be complete and accurate. As with all Genealogy work there comes a possibility for spelling or data errors with the information that we have received. Please let us know if you have found any such error.

---
LAST NAME
FIRST MI
DOB
DOD
COMMENTS
Bolin
Lizzie
March 2, 1911
August 2, 1911

Photo
Chuculate
Eli
1848
May 1, 1916
Grave beside Louisa Chuculate.
Photo
Chuculate
Louisa
1854
June 30, 1917
Grave beside Eli Chuculate.
Photo
Fishinghawk
Josie
Adair County Death Records (1907-1957)
No headstone
Submitted by; Wanda Elliott
Gritts
Sidney
(Stone broken)
1859
November 6, 1888
Wife of John W. Gritts
About 28 years.
Survey in 1997 list first name as Sidney.
Photo
Johnson
Jennie
Adair County Death Records (1907-1957)
No headstone
Submitted by; Wanda Elliott
Ice
William
October 29, 1870
May 16, 1895

Photo
Lynch
C. L.
Adair County Death Records (1907-1957)
No headstone
Submitted by; Wanda Elliott
Lynch
T. S.
August 23, 1877
February 16, 1896

Photo
Manus
Jennie
1877
1920
Wife of C. C. Manus
Photo
McEnery
Lizzie Lynch
1877
1904
Grave inside an old fenced off area beside T. S. Lynch
Photo
Scott
Alex
unknown
September 6, 1869

Photo
Scott
George
March 4, 1852
March 10, 1913
Age 61 years
Photo
Unknown
unknown
unknown
unknown
tomb
Photo
Unknown
unknown
unknown
unknown
tomb
Photo
Unknown
unknown
unknown
unknown
Head stone could be under the large tree.
Photo
|Adair County Cemeteries| |Home|
---
This site may be freely linked, but not duplicated in any way without consent.
All rights reserved! Commercial use of material within this site is prohibited!
© 2000-2023 Oklahoma Cemeteries

The information on this site is provided free for the purpose of researching your genealogy. This material may be freely used by non-commercial entities, for your own research, as long as this message remains on all copied material. The information contained in this site may not be copied to any other site without written "snail-mail" permission. If you wish to have a copy of a donor's material, you must have their permission. All information found on these pages is under copyright of Oklahoma Cemeteries. This is to protect any and all information donated. The original submitter or source of the information will retain their copyright. Unless otherwise stated, any donated material is given to Oklahoma Cemeteries to make it available online. This material will always be available at no cost, it will always remain free to the researcher.