Oklahoma Cemeteries Website
Click here to break out of frames
This information is available for free. If you paid money for a
subscription to get to this site, demand a refund.
---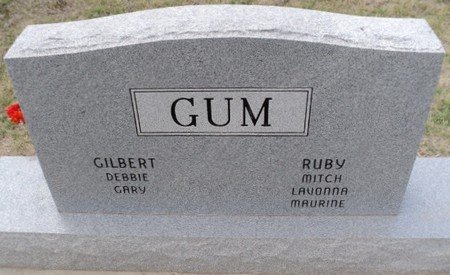 © Glenn
Gilbert D.
Waynoka Cemetery
Courtesy of
Alva Review-Courtier
Gilbert Gum
© Alva Review-Courier
6/21/2012
Submitted by: Sandy Bain
Funeral services for Gilbert Gum will be at 2:00 p.m. Saturday, June 23, 2012, at the Waynoka First Baptist Church with Reverend David Shaw officiating. Interment will be in the Waynoka Municipal Cemetery under the direction of Marshall Funeral Home of Waynoka, LLC.
Gilbert Gum, son of the late Leonard Glen and Lillie (Fisher) Gum, was born July 27, 1937, in Woods County, and passed away June 19, 2012, at Enid at the age of 74 years, 10 months, and 22 days.
Gilbert attended the Avard and Rose Valley schools before graduating from Waynoka High School.
On June 6, 1958, he was united in marriage to Mildred Wilcox.
He worked as a farmer/rancher and a Waynoka police officer before working as a custodian and bus driver for the Waynoka Schools.
On May 25, 1984, he was united in marriage to Ruby Lairson. They moved to Enid in July of 2011 when Gilbert had his heart surgery.
He was a member of the Waynoka First Baptist Church. He enjoyed carving and building furniture, but his favorite time was fishing with his grandchildren.
Besides his parents, he was preceded in death by one brother, Arthur Glen Gum; and one sister, Louise Quinn.
Gilbert is survived by his wife, Ruby, of Enid; one son, Gary Gum and wife, Kristi, of Coffeyville, Kan.; one daughter, Debbie Heffel and husband, Terry, of Okeene; one step son, Mitch Willsie and wife, Jackie, of Exeter, R.I.; two step daughters, Lavonna Lee of Woodbridge, Va., and Maurine Heath and husband, David of Weatherford, and one sister, Ruby Ann Cummings, of Alva.
Also surviving are four grandchildren, Garret Gum and wife, Whitney, of Guthrie, Slade Gum of Alva, Kristen Heffel and Tanner Heffel, both of Okeene; ten step grandchildren, Brandon Willsie of Exeter, R.I., Tracy Hagemoser of R.I., Jeremy Lee and wife of Oklahoma City, Justin Lee and wife, of Bluffton, S.C., Zach and Zane Heath, both of Weatherford, Holly Lamb and husband, Mark, of Stillwater; and Rachael, Erin, and Julie Wilson, of Shawnee; several great grandchildren; other relatives and friends.
Memorial contributions may be made through the funeral home to the Waynoka First Baptist Church or the charity of your choice.
Remembrances may be shared with the family at www.marshallfuneralhomes.com
G Surnames - Waynoka Cemetery
|Woods County Page| |Home|
---
This page was updated: Monday, 30-Jun-2014 14:25:14 CDT
This site may be freely linked, but not duplicated in any way without consent.
All rights reserved! Commercial use of material within this site is prohibited!
© 2000-2020 Oklahoma Cemeteries

The information on this site is provided free for the purpose of researching your genealogy. This material may be freely used by non-commercial entities, for your own research, as long as this message remains on all copied material. The information contained in this site may not be copied to any other site without written "snail-mail" permission. If you wish to have a copy of a donor's material, you must have their permission. All information found on these pages is under copyright of Oklahoma Cemeteries. This is to protect any and all information donated. The original submitter or source of the information will retain their copyright. Unless otherwise stated, any donated material is given to Oklahoma Cemeteries to make it available online. This material will always be available at no cost, it will always remain free to the researcher.