Oklahoma Cemeteries Website
Click here to break out of frames
This information is available for free. If you paid money for a
subscription to get to this site, demand a refund.
---
| | |
| --- | --- |
| | Courtesy of the Alva Review-Courier |
Goldie Reutlinger
© Alva Review-Courier
Submitted by: Sandy Bain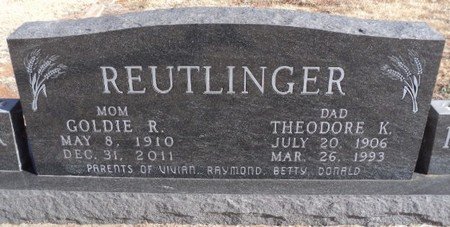 © Glenn
Goldie R. and Theodore K. REUTLINGER
Freedom Cemetery
Funeral services for Goldie Reutlinger will be January 4, 2012 at 2 p.m. at Freedom United Methodist Church with Dr. Greg Hook, Pastor, Garland Baptist Church. Burial will follow in Freedom Cemetery. Wharton Funeral Chapel is in charge of arrangements.
Goldie, daughter of Clittie (Gilbert) and William Province was born May 8, 1910 north of Freedom. She passed away at the Alva Share Convalescent Home on the 31st day of December at the age of 101 years, 7 months and 23 days.
She attended the Red Hill Rural Grade School where she met the love of her life, Theodore Karl Reutlinger. They were married on October 27, 1927 in Alva.
To their marriage four children, Vivian, Raymond, Betty and Donald, were born.
Following their marriage they lived northwest of Freedom where they farmed and ranched for 66 years.
In August of 1994 she came to Alva to make her home. Due to ill health she moved to Share Convalescent Home in 2008. She accepted Jesus Christ as her Savior, was baptized, taught Sunday School at the Lookout Church and became a member of Freedom Christian Church when Lookout Church closed.
She was preceded in death by her husband, March 26, 1993; her daughter Vivian Ward; a grandson, Tony Reutlinger; two daughters-in-law, Mayetta Reutlinger and Virginia Reutlinger; four sisters, Ruby Terrill, Velma Lenz, Flossie Goebel and Valeria Stewart; two brothers Wilbur and Mart Province.
Goldie is survived by her children, Raymond of Fredonia, Kansas, Betty and Fred Cushenbery of Alva and Donald and Janell of Freedom; ten grandchildren: Fred Kamp, Glenda Locke, Linda Brown, Anita Inselman, Danny Reutlinger, Gary Reutlinger, Randy Reutlinger, Sherry Ward, Todd Reutlinger, Lonn Reutlinger; twenty-five great grandchildren and twenty great great grandchildren; a sister and her husband, Wilma and Bryce Adair of Alva; a sister-in-law Betty Province; several nieces, nephews other relatives and friends.
|Freedom Cemetery Page| |Woods County Cemetery Page| |Home|
---
This page was updated: Sunday, 09-Mar-2014 07:58:07 CDT
This site may be freely linked, but not duplicated in any way without consent.
All rights reserved! Commercial use of material within this site is prohibited!
© 2000-2020 Oklahoma Cemeteries

The information on this site is provided free for the purpose of researching your genealogy. This material may be freely used by non-commercial entities, for your own research, as long as this message remains on all copied material. The information contained in this site may not be copied to any other site without written "snail-mail" permission. If you wish to have a copy of a donor's material, you must have their permission. All information found on these pages is under copyright of Oklahoma Cemeteries. This is to protect any and all information donated. The original submitter or source of the information will retain their copyright. Unless otherwise stated, any donated material is given to Oklahoma Cemeteries to make it available online. This material will always be available at no cost, it will always remain free to the researcher.