Oklahoma Cemeteries Website
Click here to break out of frames
This information is available for free. If you paid money for a
subscription to get to this site, demand a refund.
---
Rosie May Crabb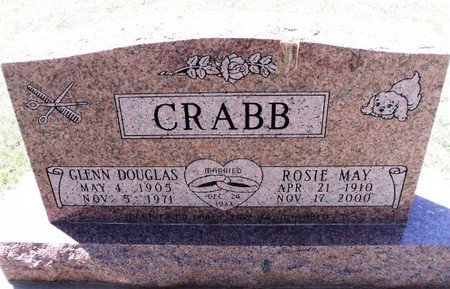 © Glenn




Glenn Douglas and Rosie May CRABB

Alva Cemetery


Age 90 - Nov 19, 2000 © Alva Review-Courier

11/22/2000

Rosie M. Crabb, 90

Graveside services will be held at the Alva Municipal Cemetery on Nov. 22 at 3:30 p.m. with Reverend J. Weegie Williams, pastor, First United Methodist Church, officiating. Interment follows in the Alva Municipal Cemetery under the direction of Wharton Funeral Chapel.

Mrs. Crabb was preceded in death by her parents, a half sister, Ruth Turner, and four brothers, Noble, Earnest, Freddie, and Earl.

Rosie is survived by five sisters, Ada Cheslic, Opal Perks, Ruby and her husband Norman Perks, all of Alva, Betty Anderson of Pampa, Texas, Ramona and her husband Mike Muegge of Lamont; two brothers and their wives, Leonard and Verda of Fritch, Texas and Dean and Jane of Amarillo, Texas; two sisters-in-law, Goldie Harding of Oklahoma City, and Thelma Harding of Eugene, Ore., a number of nieces, nephews, other relatives and friends.





C Surnames - Alva Cemetery

|Woods County Page| |Home|



---
This page was updated: Monday, 15-Sep-2014 11:26:24 CDT
This site may be freely linked, but not duplicated in any way without consent.
All rights reserved! Commercial use of material within this site is prohibited!
© 2000-2020 Oklahoma Cemeteries

The information on this site is provided free for the purpose of researching your genealogy. This material may be freely used by non-commercial entities, for your own research, as long as this message remains on all copied material. The information contained in this site may not be copied to any other site without written "snail-mail" permission. If you wish to have a copy of a donor's material, you must have their permission. All information found on these pages is under copyright of Oklahoma Cemeteries. This is to protect any and all information donated. The original submitter or source of the information will retain their copyright. Unless otherwise stated, any donated material is given to Oklahoma Cemeteries to make it available online. This material will always be available at no cost, it will always remain free to the researcher.