Oklahoma Cemeteries Website
Click here to break out of frames
This information is available for free. If you paid money for a
subscription to get to this site, demand a refund.
---
Elva Rita Cox
Feb 16, 1914 - Oct 25, 2008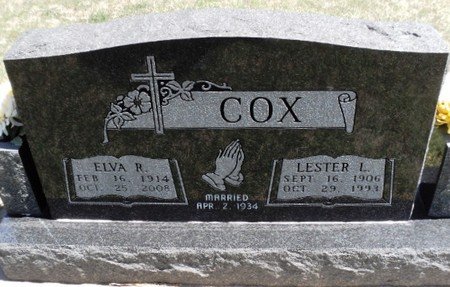 © Glenn
Elva R. and Lester L. COX
Alva Cemetery
Posted by Jo Aguirre
Enid News and Eagle (OK)
Deceased: Elva Cox
Date: October 27, 2008

A funeral service for Elva Rita Cox, of Enid, formerly of Alva, will be at 10 a.m. Tuesday, Oct. 28, 2008, at the Anderson-Burris Funeral Home Chapel in Enid. Dr. T.A. Chick will officiate. The graveside service will be at 1 p.m. in Alva Cemetery.

Elva, daughter of the late William and Ida A. Hager, was born Feb. 16, 1914, on a farm south of Cherokee, Oklahoma, and went to be with her Lord Saturday, Oct. 25, 2008, at the age of 94, at Greenbrier Nursing Home, with her family by her side.

Elva moved with her parents to a ranch 12 miles west of Hardtner, Kansas, in 1921. She attended Northwestern State Teachers College in Alva, where she received her teacher's certificate. Elva was a member of First Christian Church and past Noble Grand of Alva Rebekah Lodge No. 44, where she served as musician for many years. She was united in marriage to Lester Cox April 2, 1934. He passed away Oct. 29, 1993. Elva moved to Enid on Feb. 16, 2007.

Elva was preceded in death by her parents; husband; and one daughter, Rita Mae McMurphy of Alva; six brothers, Chester, Iro, August, George, William and John Hager; and one sister Nina Morris.

She is survived by one daughter, Jo Ann and her husband, Dr. Theron A. Chick of Enid; son-in-law Robert McMurphy of Alva; five grandchildren, Terry Chick and wife Sheryl, Randy Chick and wife, Haven, all of Enid; Allen McMurphy and wife, Karen of Yuma, AZ; Leslie McMurphy and wife, Sandra Marie of Roseville, MI; and Steve McMurphy and wife, Sandra Kay of Santee, CA; ten great-grandchildren; five great-great grandchildren; several nieces, nephews, and other relatives and friends.

Condolences may be made online at www.andersonburris.com.



C Surnames - Alva Cemetery
|Woods County Page| |Home|
---
This page was updated: Monday, 15-Sep-2014 11:26:17 CDT
This site may be freely linked, but not duplicated in any way without consent.
All rights reserved! Commercial use of material within this site is prohibited!
© 2000-2020 Oklahoma Cemeteries

The information on this site is provided free for the purpose of researching your genealogy. This material may be freely used by non-commercial entities, for your own research, as long as this message remains on all copied material. The information contained in this site may not be copied to any other site without written "snail-mail" permission. If you wish to have a copy of a donor's material, you must have their permission. All information found on these pages is under copyright of Oklahoma Cemeteries. This is to protect any and all information donated. The original submitter or source of the information will retain their copyright. Unless otherwise stated, any donated material is given to Oklahoma Cemeteries to make it available online. This material will always be available at no cost, it will always remain free to the researcher.