Oklahoma Cemeteries Website
Click here to break out of frames
This information is available for free. If you paid money for a
subscription to get to this site, demand a refund.
---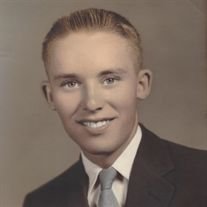 © & Courtesy of Davis Family Funeral Home
Gary William Cranor
© Davis Family Funeral Home
Submitted by: Ann Weber
Gary William Cranor, 75, of Bartlesville died Monday in Bartlesville.
Gary was born Dec. 4, 1939, to Glenn and Hazel Cranor. The eldest of four children, Gary was raised on the family dairy farm, southeast of Bartlesville near Oglesby, OK. He received his early education at Steele's Camp School, Oglesby Elementary School, and Ramona High School. He received his accounting degree from Oklahoma State University of Technical Training in Okmulgee, OK.
As a youth from a 4-H family, he was active in all aspects of 4-H Club work and activities. He won numerous awards such as serving as a member of the Washington County Dairy Judging team which represented the State of Oklahoma at the National Dairy Judging Contest in Waterloo, Iowa. In 1956, at the tender age of 16, Gary was selected as a delegate to the National 4-H Club Congress, as well as a National Dairy Science Winner in Chicago, Illinois. He held various leadership roles and worked with younger 4-H youth.
Gary was married to Beverly Sue Osment on June 26, 1964, in Blackwell, Oklahoma. They had one son Jon Michael Cranor. For most of his career Gary worked as an accountant at various places in Baton Rouge, Louisiana; and Tulsa, Bartlesville, Drumright, and Cushing, Oklahoma. In his free time, he enjoyed working with leather and ceramics.
Gary is survived by his son Jon Michael Cranor and Wilma of Bartlesville; his brother Frank Wesley Cranor and Janice of Bartlesville; sisters Glenda Marie Adcock and Robert of Miami, Texas, and Jacquline Sue Toalson of Bartlesville. He had eight nieces and nephews, 18 great nieces and nephew; seven great great nieces, and numerous cousins and friends. He is preceded in death by his parents Glenn and Hazel Cranor.
Pallbearers will include: Jimmy D. Hawkins, Jimmy Tate, Benny J. Dunkle, Ben D. Cranor, Lester Gagan and Chester Gagan. Honorary Pallbearer, Jay Cranor.
Funeral services will be held 10 a.m. on Friday, Sept. 25, 2015, at the Davis Family Funeral Home Chapel, with Chaplin Terry Snelling officiating. Services are under the direction of Carter Davis and the Davis Family Funeral Home. Online condolences and remembrances may be shared with Gary's family at www.DavisFamilyFuneralHome.com
|Oglesby Cemetery Page| |Washington Cemetery Page| |Home|
---
This page was updated: Sunday, 12-Mar-2017 10:38:56 CDT
This site may be freely linked, but not duplicated in any way without consent.
All rights reserved! Commercial use of material within this site is prohibited!
© 2000-2018 Oklahoma Cemeteries

The information on this site is provided free for the purpose of researching your genealogy. This material may be freely used by non-commercial entities, for your own research, as long as this message remains on all copied material. The information contained in this site may not be copied to any other site without written "snail-mail" permission. If you wish to have a copy of a donor's material, you must have their permission. All information found on these pages is under copyright of Oklahoma Cemeteries. This is to protect any and all information donated. The original submitter or source of the information will retain their copyright. Unless otherwise stated, any donated material is given to Oklahoma Cemeteries to make it available online. This material will always be available at no cost, it will always remain free to the researcher.