Oklahoma Cemeteries Website
Click here to break out of frames
This information is available for free. If you paid money for a
subscription to get to this site, demand a refund.
---
Willard Jay & Dixie Sue (Libby) Copeland
Tombstone photo
Memorial Park Cemetery
Bartlesville, Washington County, OK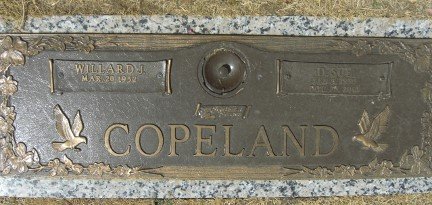 Photo © Joe Todd
Obit for Willard posted by Ann Weber
Mar 20, 1932 - Jan 30, 2017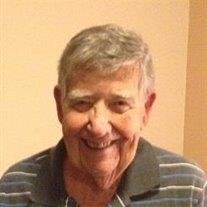 STUMPFF FUNERAL HOME
BARTLESVILLE, WASHINGTON CO, OK
(permission granted)

Willard Jay Copeland, 84, passed away January 30, 2017 in a Tulsa hospital.
Willard was born March 20, 1932 in Cherryvale, Kansas to parents Bernard and Maude (Lewis) Copeland. He graduated high school in Coffeyville, Kansas, then joined the United States Navy to serve his country during the Korean Conflict. Following his military service, he went to work at Reda Pump while attending business school.

On February 14, 1952, Willard married Barbara England in Las Vegas, Nevada. Barbara preceded him in death in July of 1992.

After completing business school, he took a job with an accounting firm, and then joined Cities Service in Tulsa, where he spent 23 years, retiring in 1989.

Willard enjoyed woodworking, and the bookcases, tables, and many other projects have become heirlooms that are cherished by his family. Willard was also an avid square dancer, and he was a Past President of the North East Square Dancing Association.

On April 22, 2003, Willard married LuAnn Rhode at the Wedding Chapel in Miami, Oklahoma.

Survivors include his wife, LuAnn Copeland of Bartlesville; daughters, Debra Malilong and her husband, Jaime of Ft. Worth, Texas; and Cindy Balsly and husband, Ed of Ft. Worth, Texas; grandchildren, Jessica and husband, Chris Malilong of Owasso, Oklahoma and Chris Balsly of Ft. Worth, Texas; great granddaughter, Kendal Malilong of Owasso, Oklahoma; step-children, Brad Rhode and wife, Patty of Wichita, Kansas, and Mike Rhode and wife, Jennifer of Dundee, Michigan; and four step-grandchildren, Courtney, Molly, Daralynn, and Kaylynn Rhode.

Funeral Service
Feb 3 at 10:00 AM
Stumpff Funeral Home Chapel
1600 SE Washington Blvd
Bartlesville, OK, US, 74006
Cemetery Details
Memorial Park Cemetery
4200 Nowata Rd
Bartlesville, OK, 74006

Thank You For Your Service!
|Memorial Park Cemetery | |Washington County Cemeteries| |Home|
---
This page was updated: Friday, 15-Sep-2017 09:44:33 CDT
This site may be freely linked, but not duplicated in any way without consent.
All rights reserved! Commercial use of material within this site is prohibited!
© 2000-2018 Oklahoma Cemeteries

The information on this site is provided free for the purpose of researching your genealogy. This material may be freely used by non-commercial entities, for your own research, as long as this message remains on all copied material. The information contained in this site may not be copied to any other site without written "snail-mail" permission. If you wish to have a copy of a donor's material, you must have their permission. All information found on these pages is under copyright of Oklahoma Cemeteries. This is to protect any and all information donated. The original submitter or source of the information will retain their copyright. Unless otherwise stated, any donated material is given to Oklahoma Cemeteries to make it available online. This material will always be available at no cost, it will always remain free to the researcher.