Oklahoma Cemeteries Website
Click here to break out of frames
This information is available for free. If you paid money for a
subscription to get to this site, demand a refund.
---
Benny Bob Brown
Tombstone Photo
Dewey Cemetery, Dewey, Washington Co. OK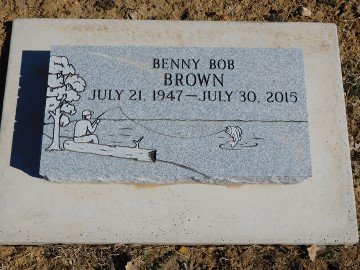 © Dennis Wilson
Obit posted by Ann Weber

© Davis Family Funeral Home
Benny B. Brown, 68, of Bartlesville, died Thursday in Dewey.
Benny was born the son of Thomas Almo and Juanita Pearl (Taggert) Brown on July 21, 1947, in Bartlesville. He was raised and educated in Dewey. Benny started his career with J & S Foundry when he was 16 years old. The foundry was acquired by Bluestem Foundry and later Superior Foundry. After 20 years of service he went to work for ACME Foundry in Coffeyville, KS, for the next 11 years before retiring at age 62. Benny was united in marriage with Sandy Carol Davis and after 11 years of marriage she preceded him in death in 2008.
Benny and Saundra enjoyed working in and maintaining their yard. Fishing and drawing were his hobbies.
Benny is survived by his sister Joleen Chuleewah and Mikahel of Bartlesville; two step children, Jonathon Carpenter and Amie Carpenter Stark; and two nephews Justin and Mikahel Chuleewah, and one niece Dafah Miller, all of Bartlesville. He is preceded in death by his parents and wife.
Funeral services will be held 2:30 p.m. on Monday, Aug. 3, 2015, at the Town and Country Christian Church, with Rev. Lanny Smith officiating. Interment will follow in the Dewey Cemetery. Visitation will be held Sunday 12-5 and Monday 9-12. Services are under the direction of Carter Davis and the Davis Family Funeral Home. Online condolences and remembrances may be shared with Benny's family at www.DavisFamilyFuneralHome.com

|Dewey Cemetery | |Washington County Cemeteries| |Home|

---
This page was updated: Sunday, 19-Mar-2017 13:46:48 CDT
This site may be freely linked, but not duplicated in any way without consent.
All rights reserved! Commercial use of material within this site is prohibited!
© 2000-2018 Oklahoma Cemeteries

The information on this site is provided free for the purpose of researching your genealogy. This material may be freely used by non-commercial entities, for your own research, as long as this message remains on all copied material. The information contained in this site may not be copied to any other site without written "snail-mail" permission. If you wish to have a copy of a donor's material, you must have their permission. All information found on these pages is under copyright of Oklahoma Cemeteries. This is to protect any and all information donated. The original submitter or source of the information will retain their copyright. Unless otherwise stated, any donated material is given to Oklahoma Cemeteries to make it available online. This material will always be available at no cost, it will always remain free to the researcher.