Oklahoma Cemeteries Website
Click here to break out of frames
This information is available for free. If you paid money for a
subscription to get to this site, demand a refund.
---
Deweul Gene Allen
Tombstone Photo
Dewey Cemetery, Dewey, Washington Co. OK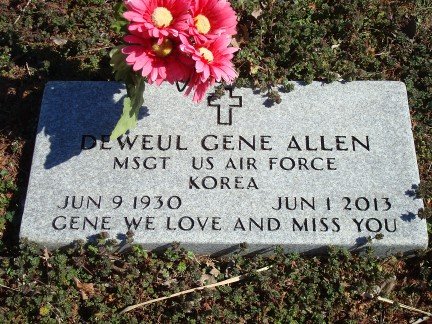 © Dennis Wilson
Deweul Allen passed away Saturday, June 1, 2013 at Jane Phillips Medical Center.
Services will be held at 1:00 p.m. Tuesday, June 4, 2013 in the Walker-Brown Chapel. Interment will be in the Dewey Cemetery. Military rites will be conducted by American Legion Post #105 Honor Guard. Arrangements are under the direction of Walker-Brown Funeral Home.
Deweul Gene Allen was born June 9, 1930 in DeKalb, TX to Roy William and Delcie (Olds) Allen. Deweul married Miriam Brown on June 3, 1949 in Meridian, MS. Deweul served his country in the US Air Force retiring as a Master Sergeant. He enjoyed woodworking, fishing, computers and was an avid reader. He loved being with his family and family events.
Deweul is survived by his wife Miriam of the home. Three daughters; Pamela and husband Arthur Henninger of Pensacola, FL, Robin and husband Bruce Eckert of Dewey and Shelda Gray of Taft, OK. Two sons; Mark Allen of San Angelo, TX and Randall Allen of Granite, OK. He was blessed with fifteen grandchildren, numerous great grandchildren, nieces, nephews and many friends.
Deweul was preceded in death by his parents, one son, Ronnie Allen and one brother, Curtis Allen.
Thank You For Your Service!
|Dewey Cemetery Page| |Washington County Cemetery Page| |Home|

---
This page was updated: Tuesday, 12-Sep-2017 10:08:06 CDT
This site may be freely linked, but not duplicated in any way without consent.
All rights reserved! Commercial use of material within this site is prohibited!
© 2000-2018 Oklahoma Cemeteries

The information on this site is provided free for the purpose of researching your genealogy. This material may be freely used by non-commercial entities, for your own research, as long as this message remains on all copied material. The information contained in this site may not be copied to any other site without written "snail-mail" permission. If you wish to have a copy of a donor's material, you must have their permission. All information found on these pages is under copyright of Oklahoma Cemeteries. This is to protect any and all information donated. The original submitter or source of the information will retain their copyright. Unless otherwise stated, any donated material is given to Oklahoma Cemeteries to make it available online. This material will always be available at no cost, it will always remain free to the researcher.