Oklahoma Cemeteries Website
Click here to break out of frames
This information is available for free. If you paid money for a
subscription to get to this site, demand a refund.
---
Ethel Margaret (Whitlatch) & Larry James "Buddy" Dillon, Sr.
Tombstone Photo
Dewey Cemetery, Dewey, Washington Co. OK

© Joe Todd
Larry served in the US Navy during the Korean Conflict


Thank You For Your Service!
Obit for Ethel
Posted by Ann Weber
Sep 1, 1930 - Jun 24, 2017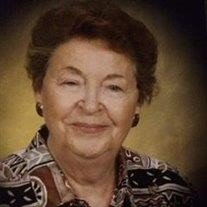 STUMPFF FUNERAL HOME
BARTLESVILLE, WASHINGTON CO, OK
(permission granted)
Mrs. Ethel Margaret "Margie" Dillon, 86, formerly of Dewey, died at 11:52 P.M. on Saturday. June 24, 2017 in Joplin, Missouri.

A Rosary will be held at 7 P.M. on Thursday, June 29, 2017 at Our Lady of Guadalupe Catholic Church in Dewey. The Funeral Mass will be held at 2 P.M. on Friday, June 30, 2017 at Our Lady of Guadalupe Catholic Church with Father Jose Thottathil as the celebrant. Interment will be in the Dewey Cemetery directed by the Stumpff Funeral Home & Crematory.

Mrs. Dillon was born in Worthington, Ohio on September 1, 1930 the daughter of Harry Edward and Alice (Vermaaten) Whitlatch. She grew up in Ohio and moved to Tucson, Arizona as a teenager. She was married to Larry James Dillon Sr. on June 7, 1952 at Lordsburg, New Mexico. They made their home in Tucson where he was an officer with the Pima County Sheriff Department and Mrs. Dillon was employed with Anadite Inc., at a full service laundry, and then at the Amado Greyhound Dog Track. They came to Copan, Oklahoma to make their home in 1978 and then moved to Dewey in 1989. After moving to Oklahoma, she was employed with Jane Phillips Hospital until her retirement.

Survivors include four children, Harry Dillon of Alaska, Lee Dillon of Flagstaff, Arizona, Larry J. Dillon Jr. of Bedford, Texas and Toni Sturgeon and husband Rusty of Sunrise Beach, Missouri, ten grandchildren, Eric Dillon, Shawn Dillon, Hollie Noreuil and husband Troy, Kim Coffman, Michelle Adams and husband Jayson, Mitchell Lucas and wife Julia, Trisha Lucas, Tasha Dillon, Joshua Sturgeon and wife Haley and Jessica Sturgeon and 13 great grandchildren and a great great grandchild on the way.

She was preceded in death by her husband, Larry James Dillon Sr. on June 18, 2012, her parents, a sister Jean and a brother Richard.

|Dewey Cemetery | |Washington County Cemeteries| |Home|

---
This page was updated: Friday, 04-May-2018 07:51:00 CDT
This site may be freely linked, but not duplicated in any way without consent.
All rights reserved! Commercial use of material within this site is prohibited!
© 2000-2018 Oklahoma Cemeteries

The information on this site is provided free for the purpose of researching your genealogy. This material may be freely used by non-commercial entities, for your own research, as long as this message remains on all copied material. The information contained in this site may not be copied to any other site without written "snail-mail" permission. If you wish to have a copy of a donor's material, you must have their permission. All information found on these pages is under copyright of Oklahoma Cemeteries. This is to protect any and all information donated. The original submitter or source of the information will retain their copyright. Unless otherwise stated, any donated material is given to Oklahoma Cemeteries to make it available online. This material will always be available at no cost, it will always remain free to the researcher.