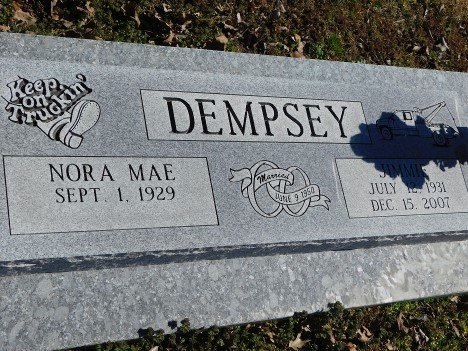 © Dennis Wilson
Obit for Nora posted by Ann Weber
Sep 1, 1929 - Feb 26, 2016
BARTLESVILLE EXAMINER-ENTERPRISE
BARTLESVILLE, WASHINGTON CO, OK
(permission granted)
Mrs. Nora Mae Dempsey, 86, of Dewey, died at 1:48 P.M. on Friday, February 26, 2016 at Bartlesville Health & Rehab Community.

Funeral services for Mrs. Dempsey will be held at 1 P.M. on Tuesday, March 1, 2016 at Tuxedo Assembly of God Church with Pastor Bret Luallen officiating. Interment will be in the Dewey Cemetery directed by the Stumpff Funeral Home & Crematory.
Casket escorts will include Dustin Kerbs, Brooks Knight, Jerry Don Thompson, Jack Wilcox, Steve Dittman, Wayne Brown and Mike McAnaw.

Mrs. Dempsey's family will receive guests for visitation at the Stumpff Funeral Home on Monday evening from 6 P.M. until 8 P.M.
A memorial fund has been established and those who wish may send their contributions in her memory to Bartlesville Health & Rehab Community, 3434 S.E. Kentucky Place, Bartlesville, Oklahoma, 74006.

Mrs. Dempsey was born on September 1, 1929 in Barnsdall, Oklahoma to Arthur and Flarnie Alta Mae (Morris) Newcomb. She grew up and received her education in Barnsdall and later attended Bartlesville Business College. Prior to her marriage she had been employed as a switchboard operator for the telephone company. She was married to Jimmie Dempsey on June 9, 1950. They were blessed and stressed with three daughters and made their home in Dewey where Mr. Dempsey was active as a general contractor, and later expanded into Jimmie Dempsey Commercial Roofing. Following an injury and physical demands of the construction business, Mr. Dempsey later began to buy and sell a few cars and trucks which later became his lifelong business, Jim's Used Trucks. Mrs. Dempsey worked alongside her husband in all of these ventures as co-owner until their retirement in 2005. Mrs. Dempsey also served as church secretary for the Dewey Assembly of God Church for over 20 years and became a member of the Tuxedo Assembly of God Church in 1980. Mr. Dempsey preceded her in death on December 15, 2007 and she has remained a resident of the Dewey area. She was recently honored as the 2016 Valentine's Day Queen at Bartlesville Health & Rehab Community where she was a resident. She also loved to sing and dance and participate in the community's activities.
Throughout the ups and downs of life, Nora was always cheerful and known for her great sense of humor and wit. She was a loving mother and grandmother. At Bartlesville Heath & Rehab she was lively and fun, dancing and singing up through the last days

Mrs. Dempsey is survived by three daughters, Barbara Dempsey Brown and husband Wayne of Arlington, Texas, Patricia Ann Dempsey Dittman and husband Steve of Dewey and Brenda Dempsey McAnaw and husband Mike of Bartlesville, five grandchildren, Libby Goode-Grasmick, Dustin Kerbs, Krystal McAnaw Cummings, Brooks Knight and Nicole McAnaw and one great granddaughter, Reese Grasmick.
In addition to her husband she was preceded in death by her parents, one brother and two sisters.

The family would like to thank Bartlesville Health & Rehab for the loving care. They not only cared for our mother but also took care of our family during this difficult time.

Friends may sign the online guest book and leave condolences at www.stumpff.org.
Stumpff Funeral Home & Crematory
1600 Southeast Washington Boulevard
Bartlesville, OK 74006
(918) 333-4300
Published in Examiner-Enterprise from Feb. 29 to Mar. 28, 2016
See more at: http://www.legacy.com/obituaries/examiner-enterprise/obituary.aspx?n=nora-mae-dempsey&pid=177885322#sthash.miKl4Ovj.dpuf
|Dewey Cemetery | |Washington County Cemeteries| |Home|

---
This page was updated: Sunday, 19-Mar-2017 13:41:38 CDT
This site may be freely linked, but not duplicated in any way without consent.
All rights reserved! Commercial use of material within this site is prohibited!
© 2000-2018 Oklahoma Cemeteries

The information on this site is provided free for the purpose of researching your genealogy. This material may be freely used by non-commercial entities, for your own research, as long as this message remains on all copied material. The information contained in this site may not be copied to any other site without written "snail-mail" permission. If you wish to have a copy of a donor's material, you must have their permission. All information found on these pages is under copyright of Oklahoma Cemeteries. This is to protect any and all information donated. The original submitter or source of the information will retain their copyright. Unless otherwise stated, any donated material is given to Oklahoma Cemeteries to make it available online. This material will always be available at no cost, it will always remain free to the researcher.